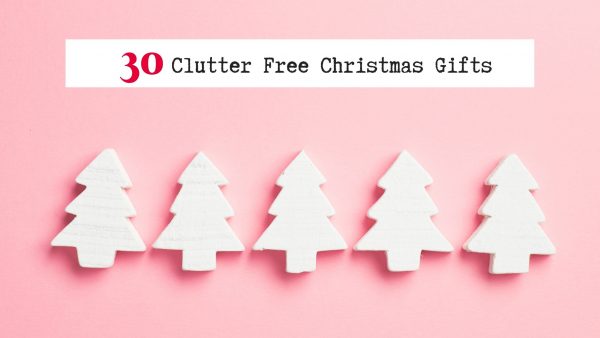 If I learnt anything from spending most of the past 20 months inside my home #LockdownLife #ThanksRona , it was that my family has too much "stuff" and not just the kids, but us adults too [ok, probably me more than my husband but we're not here to talk about me, so let's move on], so when it comes to Christmas this year, I've tracked down the best clutter free Christmas gifts for everyone.
The giving of gifts is a part of the Christmas season for many of us and while this can be a lot of fun, it can also be a source of stress, especially if you are the parent of a child (or children) that already has everything or you have limited space in your home. It can also be stressful for adults who may be in the process of decluterring or trying to live a more minimalist lifestyle.
So I'm here to help, with the best clutter-free gift ideas for everyone on your list!

Most of these gifts are from local Melbourne and Victorian-based businesses, but I'm sure you'll be able to find something similar in your area.
Clutter Free Gifts for Kids
At some point, all parents long for less stuff. Less stuff to trip on, less stuff to pick-up and less stuff to hide in the cupboards [or under the beds] when unexpected guests arrive.
If you're ready to put a stop to stuff, here are some of my favourite clutter free gifts for kids:
Clutter Free Gifts for Teens
Most teens want gadgets (or cash) but if you want to get them off the couch and out and about, check out my favourite clutter free gifts for teens:
Clutter Free Gifts for Adults
I love gifting friends something that they may not necessarily buy for themselves but something that I know they will enjoy, without adding clutter to the home. Here are some of my favourite clutter free gifts for adults:
Clutter Free Gifts for Grandparents
Grandparents are typically at the stage in life where they already have everything they want and need, so here are some clutter free gifts for grandma and grandpa that will fill their hearts [and not their homes]
Clutter Free Gifts for Families
After spending so much time at home during the past two years, give a gift that will create fun family memories that will last a lifetime. Here are some of my favourite clutter free gifts for families:
Clutter Free Gifts for your Bestie
Treat your bestie (and yourself) to a fun or yummy day out and create some new wonderful memories together. Here are some great gifts ideas for your bestie:
What clutter free gifts would you love to see under the tree this year?