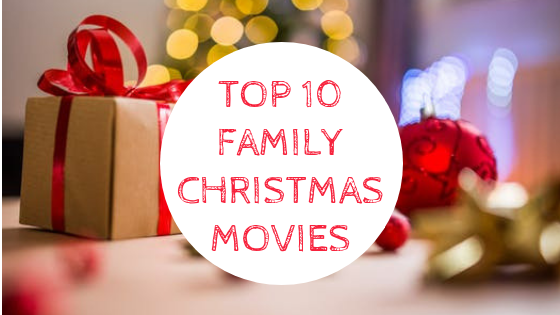 It's time to curl up on the couch with the kids and enjoy some wonderful family Christmas movies.
My kids love all of these movies and I sometimes find them watching throughout the year and not just at Christmas time.
I've included all the movie classifications and as a guide, the age that I've found them appropriate for my kids (Note: all children are different and only you know what is best for your own child). If in doubt I recommend you visit commonsensemedia.org, for further infomation regarding each movie and to see reviews from parents and children who have watched the movies themselves.
Home Alone (Rated PG, Age 8+) – An eight-year-old troublemaker must protect his house from a pair of burglars when he is accidentally left home alone by his family during Christmas vacation.
The Polar Express (Rated G, Age 6+) – On Christmas Eve, a young boy embarks on a magical adventure to the North Pole on the Polar Express, while learning about friendship, bravery, and the spirit of Christmas.
Jingle All The Way (Rated PG, Age 7+) – A father vows to get his son a Turbo Man action figure for Christmas. However, every store is sold out of them, and he must travel all over town and compete with everybody else in order to find one.
National Lampoon's Christmas Vacation (PG 13, Age 13+) – The Griswold family's plans for a big family Christmas predictably turn into a big disaster.
Rudolph the Red Nosed Reindeer (Not rated, Age 3+) – Laughed at because of his nose, Rudolph runs away into the North Pole wilderness, where he meets a gentle polar bear. When his friend Zoey, an attractive young doe, is captured by evil Ice Queen Stormella, Rudolph comes to her rescue and also helps Santa save Christmas.

Elf (Rated PG, Age 7+) – After inadvertently wreaking havoc on the elf community due to his ungainly size, a man raised as an elf at the North Pole is sent to the U.S. in search of his true identity.
The Santa Clause (Rated PG, Age 8+) – When a man inadvertantly kills Santa on Christmas Eve, he finds himself magically recruited to take his place.
Gremlins (Rated PG, Age 9+) – A boy inadvertently breaks three important rules concerning his new pet and unleashes a horde of malevolently mischievous monsters on a small town.
Mickey's Once Upon A Christmas (Not rated, Age 4+) – Disney's biggest stars shine in a magical all-new movie – sure to become a holiday classic! Mickey, Minnie, and their famous friends Goofy, Donald, Daisy and Pluto gather together to reminisce about the love, magic and surprises in three wonder-filled stories of Christmas past.

 How the Grinch Stole Christmas (Rated PG, Age 7+) – On the outskirts of Whoville, there lives a green, revenge-seeking Grinch who plans on ruining the Christmas holiday for all of the citizens of the town.

And it just wouldn't be a Christmas movie list without me mentioning my own favourites, they're not really suitable for the kids, so wait until they've gone to bed to curl up on the couch or in bed;  Love Actually, The Holiday, Die Hard,  Trading Places and It's A Wonderful Life.
What's your favourite Christmas movie?