With Christmas holidays fast approaching, I've been on the lookout for some fun and creative activities to keep my kids occupied (& out of mischief).
I recently received some goodies from Tiger Tribe to review and I've gotta tell you – my kids love them.
Tiger Tribe are one of my favourite brands. I first discovered them almost 6 years ago when I purchased a mobile, lamp and storage box set for my brand new baby's nursery. Since then, I've bought lots of their products and my kids have loved them all.
In fact, last year when I got my little boy the Tiger Tribe Airport Boxset, my husband declared it was the best toy HE had ever played with. He occasionally shares it with our son LOL.
Tiger Tribe was started by wife and husband, Naomi and Anthony Green – parents of two little tigers. The Tiger Tribe team is made up of a group of talented and creative
illustrators, graphic designers, and product innovators. Tiger Tribe products are designed and illustrated in Melbourne, Australia 🙂
One of the things I love most about their products is that they are compact in size, which makes them ideal for travel and café or restaurant play. We often take them with us when we go out to dinner, to help keep the kids entertained. They're also the perfect size to pop in their bags when they go to Grandma's house for a sleepover.
The kids were super excited when the received two new box sets in the mail – the Fairy Boxset for my 6 yr old daughter and the Pirate Boxset for my 3 yr old son.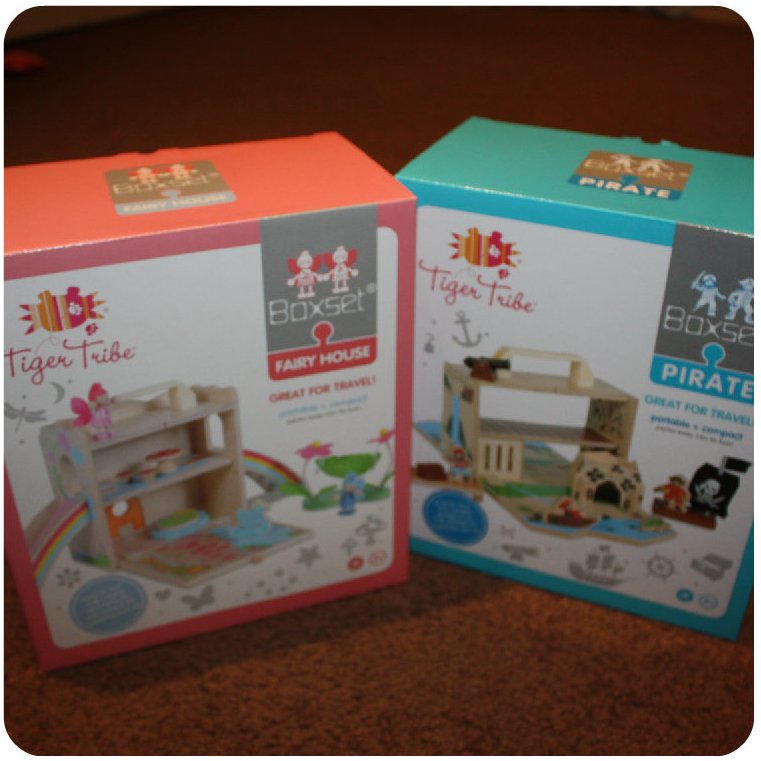 The Fairy Boxset comes with two fairies, toadstool table and chairs, flower hammock, magical swan, lilypad bed and a rainbow stairway. My daughter has been having lots of fun making up stories about the fairies and their magical land. The pink fairy's name is Katy (Perry) and the blue fairy's name is O (after her little brother).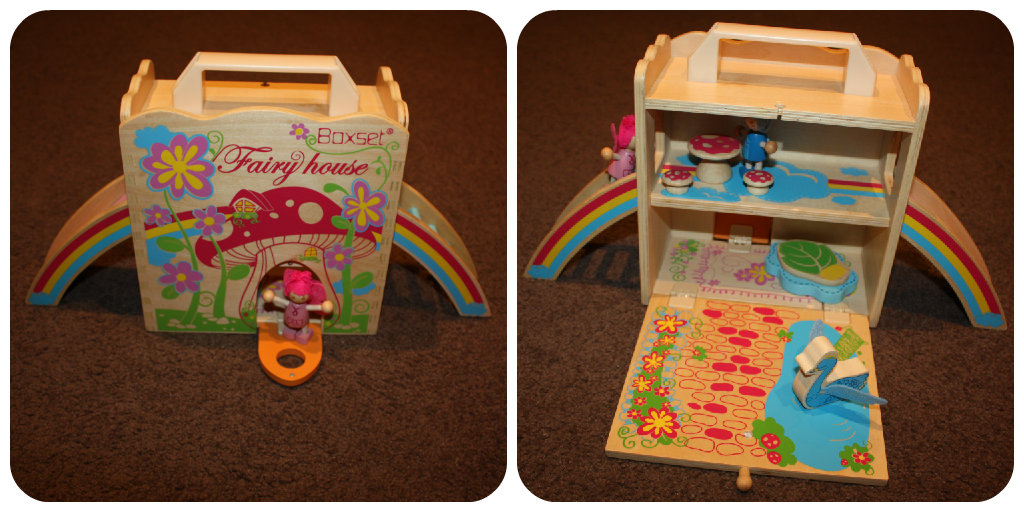 My daughter has her first wobbly tooth, so she's set the fairies up in her room in hope that the tooth fairy will stay and play when she comes to collect her tooth.
My son's eyes nearly popped out of his head when he saw the Pirate Boxset. I suddenly realised that he doesn't actually have any pirate themed toys – oops!
I think all boys at one time or another dream of being a pirate and finding buried treasure, and this set is helping my little man do just that.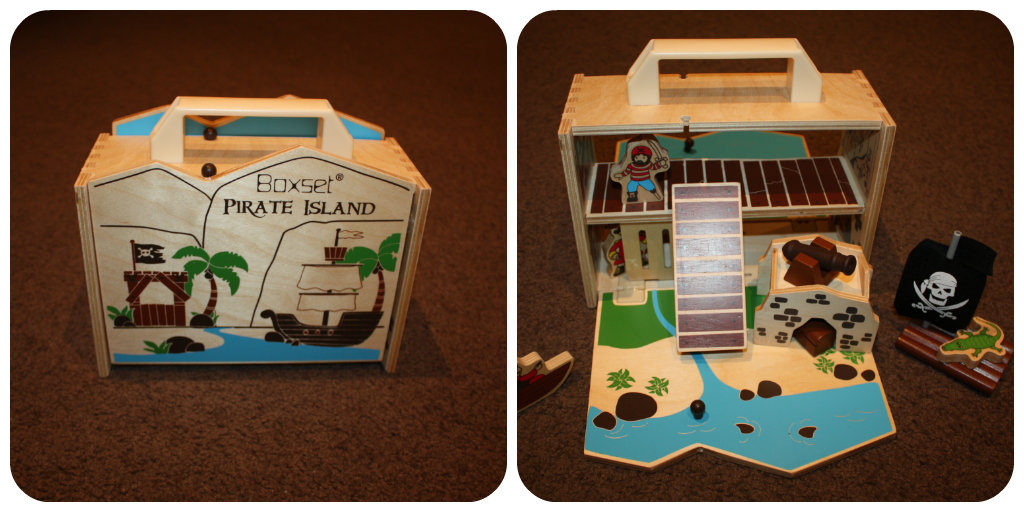 Straight away he decided that one of the pirates was very naughty and put him in jail, while the other pirates walked the plank and sailed around on the pirate ship.
A cheeky crocodile even jumped aboard at one stage so he could hunt for some treasure.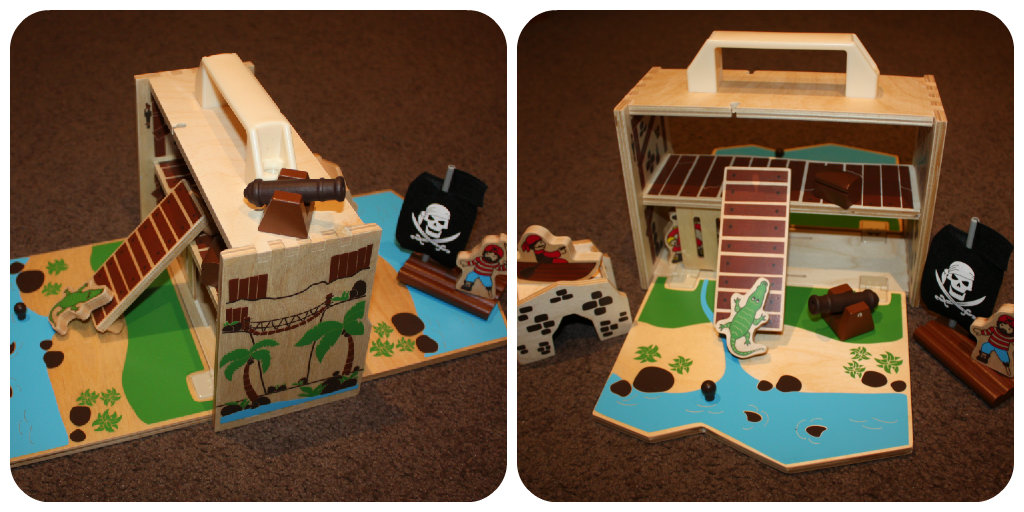 The Pirate Boxset comes with three pirates, a treasure chest, a pirate boat, a row boat, canon, cave and a (cheeky) crocodile.
All Boxsets are made from eco-friendly birch plywood (sourced from sustainable plantation forests), painted with non-toxic paints and made in compliance with EN-71 safety standards.  Boxsets are suitable for kids aged 3+ (and their dads). RRP $59.95.
We also received some of the new Piccolo range of activity sets.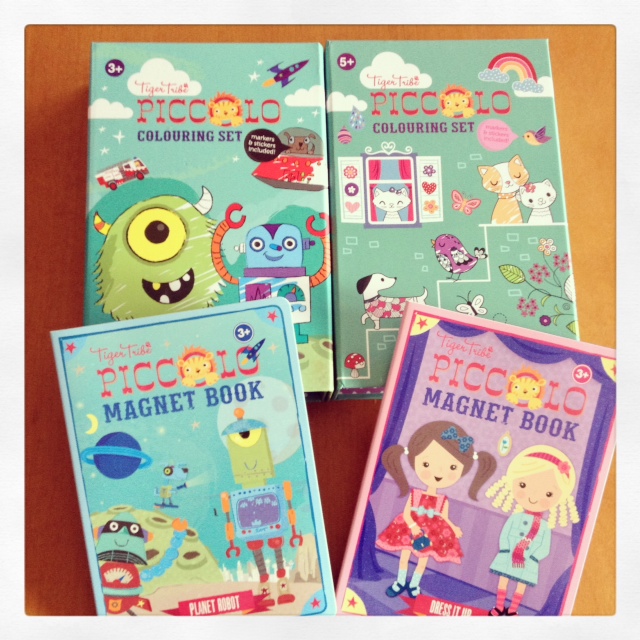 The kids are both loving the colouring sets which each come with a 48 page colouring book, 10 markers and 5 sticker sheets. All this is conveniently packed in a foldout storage box and is compact enough to fit in my handbag.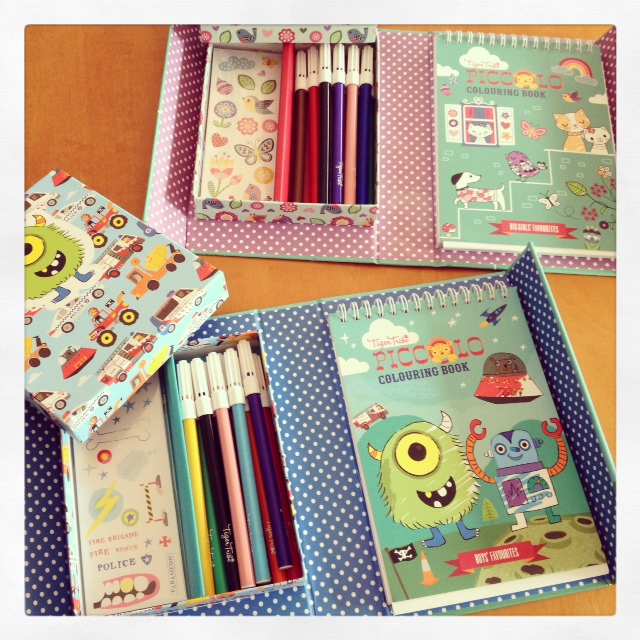 My daughter is OBSESSED with drawing and colouring in – it's usually the first thing she does when she gets up in the morning and she said she gave these sets "a million and three thumbs up". My little lefty is still trying to master the whole colouring in thing, but he's certainly having lots of fun trying.
These would make perfect stocking stuffers for Christmas. I'm actually thinking about getting some more and leaving them in the car, so they're available when we go out and I've rushed out the door like a crazy mamma, without everything we need. The colouring sets retail for $11.95.
For more information on these Tiger Tribe products visit or to find your closest stockist click here.
Thanks to the fabulous folks at Tiger Tribe, I have one Fairy Boxset and one Pirate Boxset to giveaway to Melbourne Mamma readers.
All you need to do to enter, is visit the Tiger Tribe website and then leave a comment below telling me which is your favourite product (other than the products I've mentioned here) and also which prize you would like to win.
Terms & Conditions
1. Eligible entrants must be or become a subscriber to Melbourne Mamma's mailing list. To subscribe click here.
2. Entry is open to Australian residents (excluding ACT), aged 18 years and over.
3. Giveaway commences on 8 December 2013 and concludes at 9.00pm 15 December 2013.
4. This competition is a game of chance, and skill plays no part in the results of this competition. Winners will be selected at random.
5. Winners will be notified by email and announced on this website. Any prize not claimed within 48 hours of notification will be redrawn.