Still wondering what to get hubby, parents, inlaws or other family members for Christmas….
Thanks to Madman Entertainment, I have 5 fantastic DVD boxsets for one lucky reader to WIN!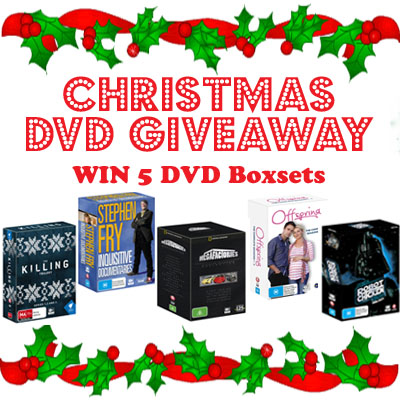 Madman is Australia's leading independent theatrical, home entertainment distribution and rights management company, specialising in the wholesale distribution of DVD and BLU RAY product into sales channels throughout Australia and New Zealand.
Madman proudly showcases the best in collectable and special interest genres including Australian film, world cinema, TV, kids content, Anime, sports and more. Put simply, Madman is mad for entertainment ®
The prize includes:
Offspring  Season 1-4 – From the award-wining producers of Paper Giants: The Birth of Cleo, Beaconsfield, The Secret Life of Us and Tangle comes the exclusive box set of all four seasons of Australia's favourite series OFFSPRING. Nina Proudman has a simple quest – to deal with her fabulously messy family, manage the intensity of a job delivering babies, and go on the hunt for a decent love life – whilst also handling her tendency to over-think, fantasise, and wonder about life's other little mysteries. Join Nina as she stumbles, dreams, cries, laughs and conquerors life's little and big tests over the four seasons of the hit series OFFSPRING. Includes the feature-length telemovie, all 52 episodes and the entire online webisode series 'The Nurses' plus many more extras! (BTW you're allowed to keep this one for yourself 🙂 )
Megafactories: The Ultimate Showroom Collection – Visit the 18 shop floors of the world's leading automotive manufacturers; carmakers whose names are synonymous with speed, luxury, and status. From concept stage to assembly to the road, these vehicles are several classes above the average family car with the price tags to match. When you build the most desirable cars on the planet, you create the ultimate showroom.
The Killing Series 1, 2 and 3 – With the self assured Sarah Lund at the helm, its bleak Nordic scenery, brooding tempo and twisting tales of murder cover-ups and betrayals The Killing has become the most talked about Euro crime series worldwide. Now all 40 episodes from series 1, 2 & 3, are included in this collector's edition 12 disc set with over 2000 minutes of riveting and innovative story-lines that have enthralled the nation.
Robot Chicken Star Wars Complete Trilogy Collection – A long time ago, in a galaxy of insane toys far far away… the plasticised pop culture explosion of ROBOT CHICKEN goes far over into the dark side of The Force! The snappy sketch comedy aims its satirical X-Wing squadron squarely at Star Wars' exhaust port for the most hilarious take on the saga ever seen! Enjoy a mighty saga of epic proportions with all three ROBOT CHICKEN STAR WARS SPECIALS.
Stephen Fry Inquisitive Documentaries Collection – Britain's national treasure Stephen Fry has embarked on amazing journeys of discovery which have been scenic, historical, glamourous and thought-provoking all at the same time, embellished with his own inimitable style. Collected together for the first time, become an armchair traveler as Stephen shows us what makes America "so unique, so diverse, so very American"; witness as he follows in the footsteps of Douglas Adams to uncover some of the rarest and most threatened animals on earth; and examines the incredible invention that sparked a cultural revolution.
Entry is viz the widget below!
Entry is open to all Melbourne Mamma newsletter subscribers. Subscribe to newsletter here.
Competition ends Monday, Tuesday 17 December 2013 at 9:00 pm AEST. See Terms & Conditions.
For more information on these DVDs visit www.madman.com.au
Good luck! a Rafflecopter giveaway