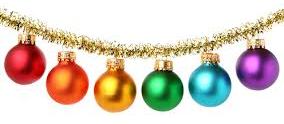 Top 10 reasons why you SHOULD shop local this Christmas and exclusive offers from some of Melbourne's favourite stores!
1. Stimulate Local Economy. When you purchase at locally owned businesses, more money is kept in the community because locally-owned businesses often purchase from other local businesses and service providers
2. Shopping local supports local charities. Local businesses support local kinders, schools and charities. Without your support, local businesses can't help these community organisations. With your support, local businesses give back and help local causes.
3. Customer Service Is Better. You get better customer service when dealing with local businesses. They are often family run businesses in which the owners take special pride in their relationships with customers. In a local business, you know the person behind the counter, and they know you. They have a better understanding of the products they're selling, and they take time to serve their customers.
4. Find Unique Gifts. Locally owned businesses often have the best, most unique gifts around. They generally have access to unique local products that make great gifts for that special someone in your life.
5. Save Money. A marketplace of hundreds of small businesses is the best way to ensure innovation and low prices over the long-term.
6. More choice and buy what you want. A multitude of small businesses, each selecting products based on their own interests and the needs of local customers, guarantees a broader range of product choices.
7. Shopping Local Creates Jobs. Local businesses support other local businesses. When you spend your money with a local retailer, they spend money with a local advertiser, their local accountant, a local bank, and so on.
8. Environmental Impact Is Reduced. Shopping local is green. Less money spent on fuel and packaging means a lower carbon footprint. Less time in the car means more time with family, friends and enjoying life (and more money to spend on shopping 😉 )
9. Making Christmas Merry for Everyone. When you shop local this Christmas, not only will you be purchasing gorgeous gifts for your loved ones but you will be helping local business owners to purchase gifts for their loved ones too.
10. Last But Not Least. Avoid carpark rage and the mayhem at the shopping centres!
To help you along your way, Melbourne Mamma has handpicked some fabulous local stores that are offering some exclusive discounts just for you. There's a mix of bricks & mortar and online stores all around Melbourne which offer a selection of items for the whole family. These offers are valid until 30 November 2013.
Button Baby  (www.buttonbaby.com.au)
Button Baby is an online store full of beautiful and useful products for babies and toddlers. They stock baby accessories, gifts and the most amazing range of unique and gorgeous toys.
Exclusive offer: Free shipping within metro Melbourne when you spend $50 or more – Code MELBMFREE
Funk Melbourne – 17 Puckle St, Moonee Ponds (www.funkmelbourne.com.au)
Funk Melbourne is your one stop gift shop. They stock a huge range of funky gifts for all ages and occasions.
Exclusive offer: Spend $75 or more online to receive FREE SHIPPING Australia wide – enter code mmfs13 at checkout OR shop in store and mention Melbourne Mamma to receive 10% off everything
Story Mama (www.storymama.com.au)
Story Mama is an online bookstore specialising in picture books for babies, toddlers and pre-schoolers. They stock the BEST books, hand-picked by mums and loved by little kids.
Exclusive offer: Free shipping within Australia on orders of $50 or more – code MMFREE
Moppit and more – 312 Queens Pde, Clifton Hill (www.moppitandmore.tsite.com.au)
Moppit and more is a bright and colourful children's store located in Clifton Hill. They offer a range of baby gifts, clothing, toys, decor, hair accessories, puzzles, nappy bags, wall stickers and more. They carry the Moppit brand and much more…. Saltwater Sandals, Minti, Emily Green and Rock Your Baby.
Exclusive offer: 10% off all full priced items on orders over $50 in store or online. Use code MM10 at checkout or mention instore. Also FREE shipping within Melbourne and FREE gift wrapping
Red Berry Kids ( www.redberrykids.com.au)
Red Berry Kids is a family owned and operated business, located on the Mornington Peninsula. They stock a wonderful selection of wooden toys & wooden educational items, and also some gorgeous dolls & items from the Alimrose range. Pick up is welcome.
Cradle Rock – 40 Stokes St, Port Melbourne (www.cradlerock.com.au)
Cradle Rock is one of Australia's most popular kid's retailers with a huge online range and an awesome in-store shopping experience in Port Melbourne. Ranging some of Australia's favourite kid's labels including Rock Your Baby, Minti, Oobi, Munster and more. Cradle Rock is your baby & kids destination.
Exclusive offer: 10% off full priced items. FREE gift wrapping. FREE Christmas Pillowcase on sales over $200 when you mention MELBOURNE MAMMA.
French Bazaar  (www.frenchbazaar.com.au)
A cool collection of French products for the whole family. Homewares, décor, gifts, toys & more.
Exclusive offer: 15% off full priced items. Enter code SANTAMAMMA at checkout.

Little Shop of – 2 Woorayl St, Carnegie (www.littleshopof.com)
Little Shop of is an extra cute shop in Carnegie – one of Melbourne's hidden treasures offering curated selection of design, handmade, vintage and adult clothing. Proudly supporting handmade wares and independent businesses from all over Australia, New Zealand and beyond.
Exclusive offer: 10% off storewide. Use code MELBOURNEMAMMA at online checkout or mention Melbourne Mamma in store.
Andel Homewares – 29 Rose St, Essendon
Discover our hand-selected range of beautiful jewellery, scarves, baby gifts, religious gifts and home wares. We'll help you find the right gift or personal homeware and decorator pieces at an affordable price… and we'll wrap them for you too. Come in today and browse our wide range of wonderful items!
Exclusive offer: Spend over $50 and receive 10% off when you mention Melbourne Mamma in store
Ludo Trading (www.ludotrading.com.au)
Your 'one stop shop' for all your gift giving. We're here to make your life easier with fabulous gifts for any special occasion.
Exclusive offer: 15% off online only using code mamma15
Chocolate Freckles – 191 Buckley St, Essendon
Chocolate Freckles have searched high and low to find the most interesting, unique and beautiful products for children to wear and enjoy. Minti, Littlehorn, Heavenly Creatures, Coco and Ginger and Chalk n Cheese are some of the favourites currently stocked. Their big new store in Essendon now also stocks a fab range of homewares, furniture & more.
Exclusive offer: Buy two or more items of clothing and get 15% off – must mention Melbourne Mamma in store to receive discount
Tarbea (www.tarbea.com.au)
Tarbea is an online boutique specialising in exclusive & contemporary gifts for children & babies. Unique collections from international and Australian designers, you are sure to find something special. We are constantly adding handpicked gifts to our collection.
Exclusive offer: Free shipping within metro Melbourne with code FSMELB
Little Shop of Treasures (www.littleshopoftreasures.com.au)
From balance bikes to teepees to a wide variety of wooden toys. Whether you're looking for toys, gifts or décor, they endeavour to deliver timeless pieces that will become permanent residents in your children's rooms.
Exclusive offer: 15% off storewide. Enter code MAMMA at checkout.

Belinda Jane's Gifts – 190/192 High St Ashburton (www.belindajanes.com.au)
A delightful homewares shop offering a range of homewares & gifts.
Exclusive offer: Free Shipping & Xmas Gift Wrapping ( min spend $150 ) using code FREE SHIP
Mickey House Kids (www.mickeyhouse.com.au)
Mickey House Kids is an online store filled with gorgeous and 'super-cute' designer baby and children's clothing, baby shower gifts, organic baby wear and accessories from international and Australian labels at great prices.
Exclusive offer: 25% OFF ALL full-priced merchandise. Excludes Sale items, pre-orders, Anions products, gift vouchers and gift wrapping service. Cannot be used in conjunction with other offer or discount. Use code BDAY25 at checkout.
Little Beba (www.littlebeba.com.au)
Littlebeba offers gorgeous gift packs at your fingertips. Littlebeba specialise in upmarket quality gifts for mum, baby and kids. All packs are beautifully gift boxed with our signature ribbon and delivered Aust wide. Our gift packs are thoughtfully put together to give the wow factor, all the running around has been done for you! We also have organic and ecofriendly gifts, organic skincare and a specialty christening range.
Exclusive offer: 10% OFF ALL orders. Use code MAMMA10 at checkout.
I hope you decide to shop at some of these stores during the lead up to Christmas. If you do, let me know what you found and what your favourite shop is!