Whilst on holidays recently at the Gold Coast, my two little ones were fascinated with the surf lifesavers everytime we went to the beach. My 4yr old daughter had lots of questions, "who are those people?", "what do they do?", "why are THEY allowed to drive on beach?", "why are the flags red & yellow, this is Australia, they should be green & yellow?" (she is very patriotic :)).
Imagine their delight when I was given the opportunity to review the new "Sammy Sea Patrol" toy.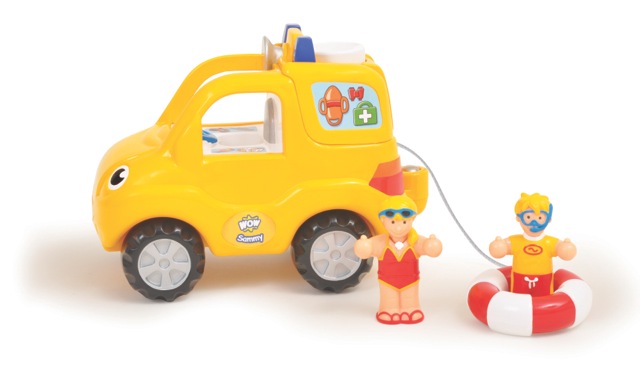 The new toy from WOW, Sammy Sea Patrol is a lifesavers jeep, that comes with all the kit required to help in any emergencies including two figures dressed as Australian lifesavers (aptly named Cody & Summer), a rotating watch tower and a life ring that is attached to a retractable pull cord, so that children can re-enact a rescue mission. This toy is suitable for children as young as 18 months and comes with a 10-year warranty from WOW Toys.
This toy is ideal for role play and teaching children about the importance of water safety.
My two quickly began acting out a scenario where one of them was a naughty shark named "Bruce" (they love Finding Nemo), while the other was the lifesaver that had to save a swimmer in the water.
They've since gone on to rescue each other from a naughty whale (they also love Pinocchio) and a crazy octopus called "purpley" (no idea where he comes from….).
They are both having so much fun with the toy and can't wait to get back to the beach to see the lifesavers again.
Hubby and I have also sat down with them to join in on the fun and we've been discussing the importance of being safe, both at the beach and in a swimming pool.
For more information on water safety, please visit Life Saving Victoria. If you're interested in learning more, you should also check out Life Saving Victoria's Meet a Lifeguard program, you can also download some great colouring in sheets for the kids.
If you would like to purchase this toy for your little ones, it is available now from www.kidstuff.com.au.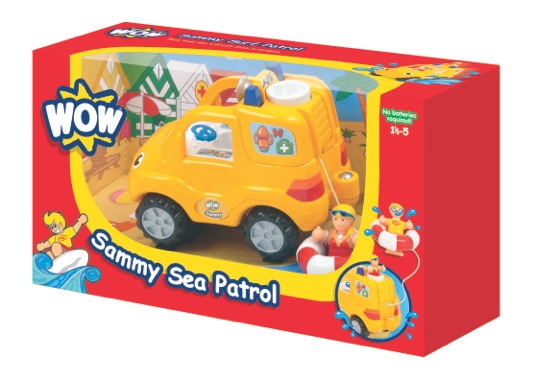 To help spread the water safety message, I have one Sammy Sea Patrol toy for someone to win.
How to Enter!
Enter the draw via entry widget at the end of this post.
To enter the draw all you need to do is comment on this post and tell me what you love most about summer.
You can earn EXTRA entries by:
– Subscribing to Melbourne Mamma's Newsletter.
– Liking Melbourne Mamma on facebook.

Giveaway starts Sunday 4 November 2012 and ends midnight (AEST) Sunday 11 November 2012. Winner will be randomly selected via Rafflecopter on 12 November. Winner will be announced on this blog.
Entry is open to Australian residents only.