Last weekend we celebrated my daughter's 5th birthday. I still can't believe that my baby girl has turned 5 and will be heading off to school next year. Sometimes I wish I could just stop time and enjoy these early years just a little longer.
Last year my daughter chose a Rainbow theme, so I was curious to see what she wanted this year. I figure that since she's old enough to say what she wants (which she does often), I wanted to get her involved with choosing a theme and helping get everything ready.
This year she chose a butterfly party.
Last year I heard about a company that brings live butterflies for birthday parties and thought that would be perfect. When I spoke to Marie-Claire at Butterfly Adventures, I knew that my daughter was going to love it.
I wanted to make some decorations for the table, so I purchased some gorgeous milk glass plates from Petite Portions and borrowed some glasses domes from my lovely friend Daisy at Leo & Bella. I then grabbed some twigs from the local park and cut out some butterfly clipart that I printed from the internet and made two of these table decorations.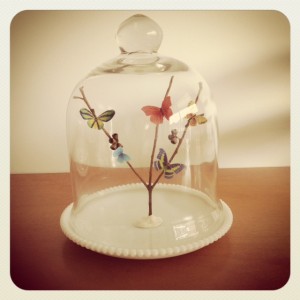 I also wanted something to hang above the table and had seen some butterfly lanterns on Pinterest that I knew would be perfect. I bought some white paper lanterns from the local $2 shop and attached some more butterflies that I had printed.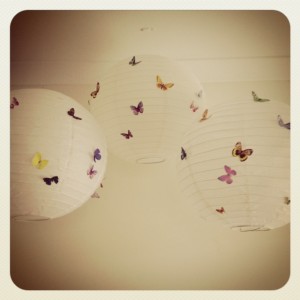 I saw some amazing edible butterfly decorations on Etsy awhile ago and knew they would also be perfect (and an easy way) to decorate the cake. I made a two tiered buttercake with vanilla buttercream icing and decorated it with the butterflies. My daughter gasped when she saw the cake for the first time, so I know that she loved it.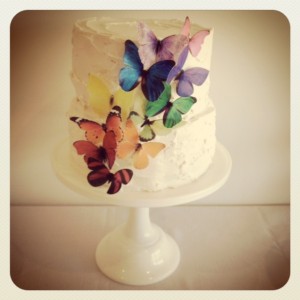 I finished off the table with fruit cups, butterfly fairy bread, cupcakes, coconut ice, marshmallows, musk sticks and pink milk in glass bottles with gorgeous paper straws.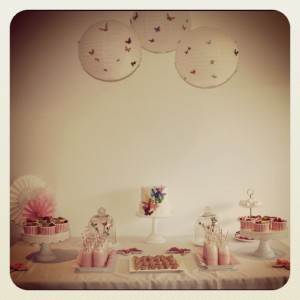 The butterflies were amazing and all of the children enjoyed learning about butterflies, colouring butterfly pictures and going in the tent to feed them (who would have guessed that they love to drink gatorade).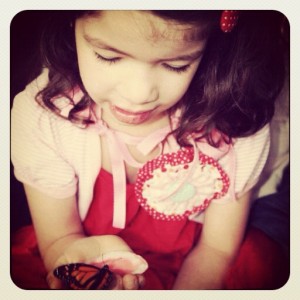 My daughter said it "was the best birthday ever Mummy" and I think I have to agree with her 🙂