The lovely folks at Mocka Australia recently sent me a Box Cart for the kids (and their daddy) to play with.
I remember my brother had a billy cart when we were kids and we loved it. (Hopefully my kids will not be reading this) I can remember us flying down the bridge at the end of our street at a million miles an hour with NO helmets!!! We had so much fun, so I was hoping my kids would love their new box cart too – wearing their helmets, of course! 
It arrived unassembled but only took hubby (and the kids) less than 10 minutes to construct.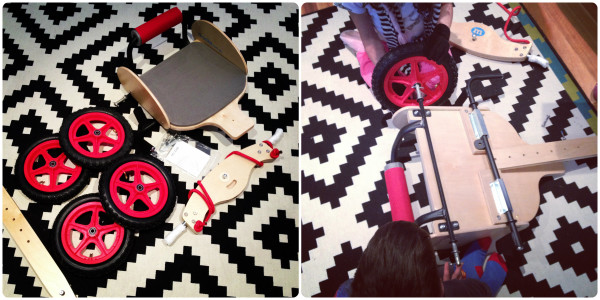 Once it was ready to roll, Master 4 hopped on, ready for the first ride. Note:  The cart is recommended for children aged 5+, so my 4 yr old (115 cm) wasn't quite able to reach the foot bar, so we placed a small cushion behind him. My 6 yr old daughter (135 cm) had no problems reaching the foot bar.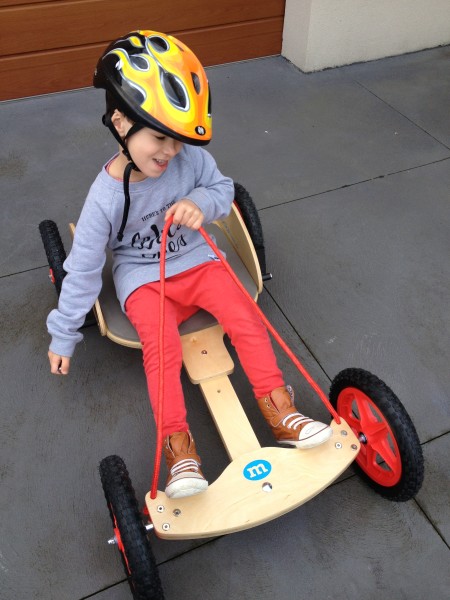 After a few rolls down our slightly inclined driveway, he was quickly able to work out how to steer and also use the hand brake.  
Then hubby took him for a ride on the street. My son was squealing so loud with excitement, that one of our neighbours came out to see what was going one LOL.  
After patiently waiting for her brother to have a turn, Miss 6 jumped in and took off down the driveway like she was a Formula One driver. She had already figured out how to steer and use the brake from watching her brother.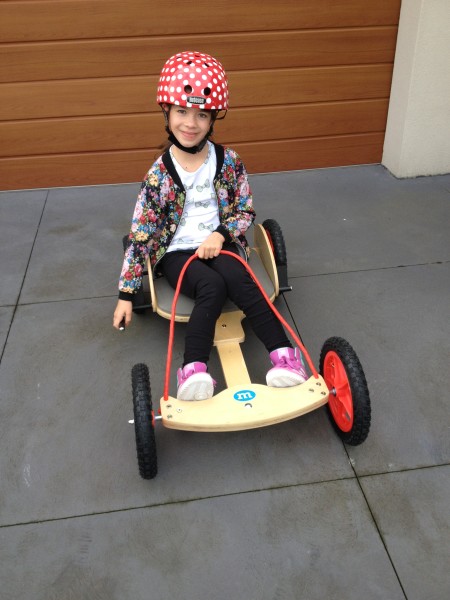 Next we decided to take the cart to a local park, so the kids could use it on the bike path.  
They had SO. MUCH. FUN.
Hubby also tied a spare dog lead to the rope at the front so we can pull the kids along (much easier on my dodgy back than pushing). This has come in handy when we've made a stop at the shops and I need somewhere to put the groceries on the way home. The kids have even been enjoying pulling the groceries home.
Now they want to know when we can tie the cart up to our dog (an 11 yr old cocker spaniel), so she can pull them around.
NOT.gonna.happen.kids. I think she would prefer to sit in the cart and you pull her.
I highly recommend you add this to your kid's Christmas list! Just make sure you keep it out of hubby's reach or he'll be on it too!
For more info on the Box Cart or other Mocka products, visit www.mocka.com.au.
Would your little ones love a cart like this?