What is it about boys (little & big) that makes them so obsessed with superheros?
My 4 yr old has been obsessed with Superman for the past two years and by obsessed I mean, he even had us calling him Clark (as in Kent) when he was dressed in his "people clothes" and not his Superman costume LOL.
Apparently he is going to BE Superman when he grows, so he can save people and fly around the world.
You can imagine his excitement (high pitched squealing excitement in fact) when a Mini Beanz Comic Landing Pad arrived at our door to review.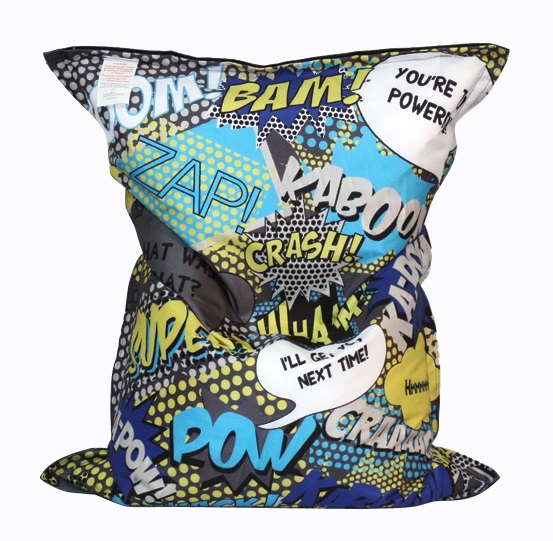 The Comic Landing Pad is the perfect bean bag to catch your little (or BIG!) superhero. Made in a size that would be just as comfy for a toddler as it would for an adult, our COMIC LANDING PAD is an absolute must have. Designed here in Melbourne with imagination and fearlessness at its heart to embrace the essence of childhood that we should never grow out of.
It is recommended that you will need approx 100–150 litres (1-1.5 bags) of beans to fill the bag – we have just over 1.5 bags in ours.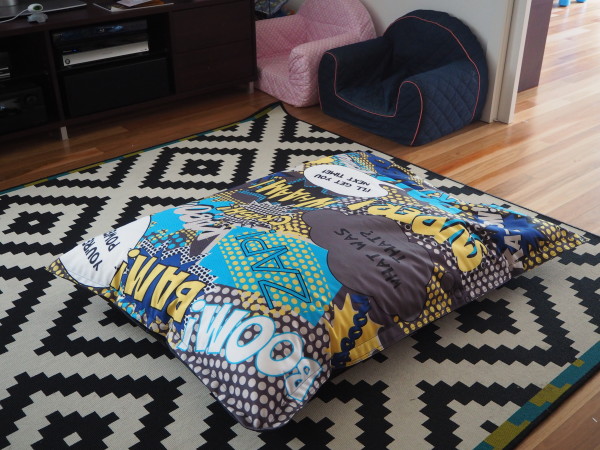 Once the bag was filled, my son was changed in to his Superman costume quicker Clark Kent could find a phonebox to change in to his.
"Can I practice flying onto this bag mummy" he asked.
As you can see, it was hard to photograph someone who is moving faster than a speeding bullet LOL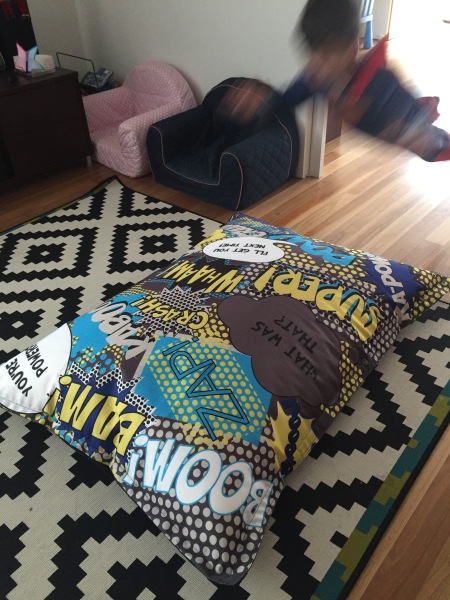 The Comic Landing Pad is suitable for indoor or outdoor use, you can take this bean bag anywhere with the help of the carry handle. Designed with safety and practicality in mind, the removable cover contains a safety zipper as well as the inner bag that holds the beans having a secondary safety zipper.
My kids love to lie on the bag to watch TV and read books. It's big enough to fit both my 4 yr old and his 7 yr old sister.
It's also perfect for watching our favourite superhero – Superman (Christopher Reeve's Superman of course!)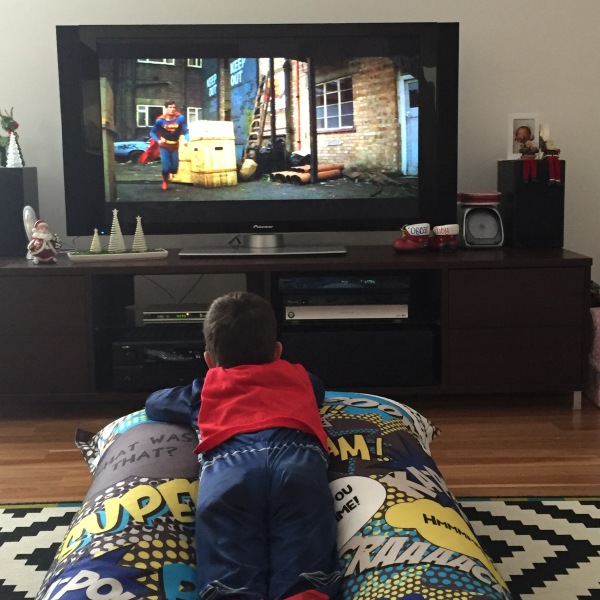 For more details or to order a landing pad for your superhero, visit www.minibeanz.com.au
Mini Beanz also make a whole range of gorgeous beanbags in various shapes, sizes and colours for all ages and I am giving one lucky Melbourne Mamma reader the chance to WIN a beanbag of their choice – just in time for Christmas.
Competition Details
Entry is open to all Melbourne Mamma newsletter subscribers. Subscribe to newsletter here.
To enter you must leave a comment on this post telling me "Which beanbag you would love to win". (Visit minibeanz.com.au to view the range)
One bonus entry if you follow Melbourne Mamma on Instagram (leave your username in your comment below).
One bonus entry if you follow Mini Beanz on Instagram (leave your username in your comment below).
Competition ends Thursday, 18 December 2014 at 10:00 pm AEST.
Entry is open to Australian residents (excluding ACT), aged 18 years and over.
This competition is a game of chance, and skill plays no part in the results of this competition. Winners will be selected at random.
Entries not completed in accordance with these terms and conditions will not be considered valid and will not be included in the draw.
Winners will be announced on this website. Any prize not claimed within 48 hours of notification will be redrawn.
Good luck!