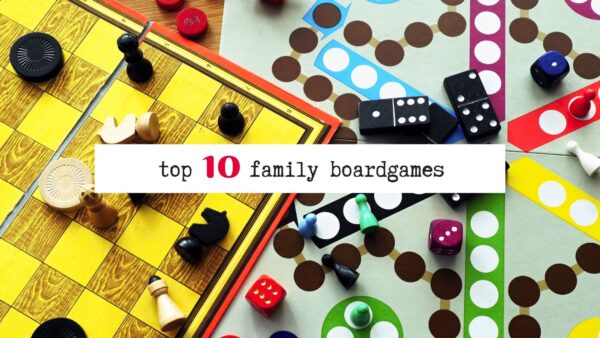 If you've been struggling to get the kids (and perhaps even yourself) off electronic devices during COVID-19, I've made a list of my Top 10 Family Board Games to keep you all entertained.
We're quite a competitive family, so when we play games, we're quite vocal and some of us may get a carried away [I'm looking at you hubby]….. but we always have a good laugh.
Blokus
Blokus is a strategy board game that challenges spatial thinking. The goal of this game is for players to fit all of their pieces onto the board. When placing a piece it may not lie adjacent to the player's other pieces, but must be placed touching at least one corner of their pieces already on the board. The player who gets rid of all of their tiles first is the winner and strategic thinking helps! Suitable for age 7+ years.
My kids got this game for Christmas and it quickly became a family favourite.
Available from Amazon
Beat The Parents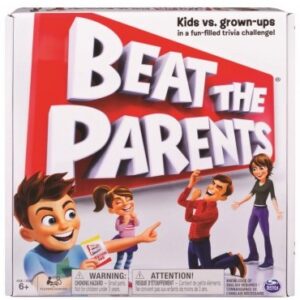 Beat the Parents brings kids together with their parents to go head-to-head in a fun-filled family trivia game. Prove who's the boss in the game where the adults answer questions about kids' stuff, and the kids answer questions their parents should really know. The first team to get both movers across the board to the other side's start spaces wins the game! Suitable for age 6+ years.
We've had this game for two years and I hate to admit this (especially here on my website) but the kids have been kickin' our asses and hubby and I are yet to beat them #hangsheadinshame
Available from Catch
5 Second Rule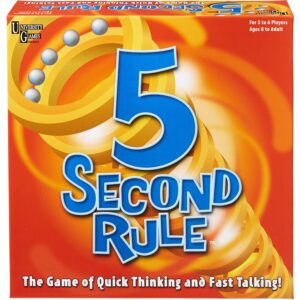 The Five Second Rule is a board game of quick thinking and fast talking. Basically the rules are very easy – name three things in 5 seconds flat! Sounds easy? You'd be surprised! Suitable for age 7+ years.
This game is good for a laugh as it's funny hearing what each of us blurt out when rushing to answer within 5 seconds.
Available from Amazon
Kids Charades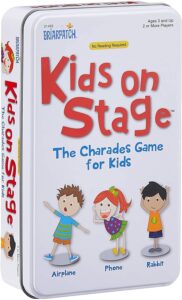 Bravo! Encore! Everyone's applauding kids on Stage, The fun, creative way to encourage confidence and develop communication skills in young children. Everyone gets in on the act on every turn. Each player takes a turn acting out animals, objects or actions while the other players guess. It's a game the whole family can play and enjoy. Suitable for age 3+.
This game always has us in stitches as we try and work out what in the world the kids are sometimes doing.
Available from Amazon
Yahtzee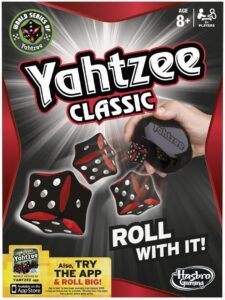 Yahtzee is the classic dice game with a unique combination of luck and strategy. Every game is an exciting challenge to rack up the highest score. Seriously high scores come from multiple Yahtzee bonus points, but your luck could change with every roll! Got 3 of a kind and feeling lucky? You might want to push your luck and risk it all for a Yahtzee. But don't forget, you have to fill in a score on every turn. So make it count, or you'll bust out! Suitable for age 8+ years.
Yahtzee is my all-time favourite game and there's nothing I love more than yelling out YAHTZEEEEEEE!!! when I win.
My kids have been playing this game since they were six years old and it's great for helping them with counting.
Available from Catch
Taboo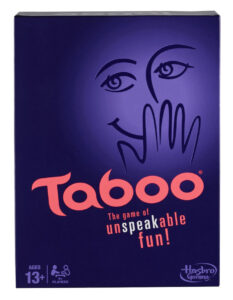 Taboo, the laugh out loud, out-of-your-seat game of forbidden words is back with a fresh new look. In the Taboo game, you need to get your team to guess the secret word, but the obvious clues are strictly off-limits. To get your team to say pinball, would you say arcade, game, flippers, tilt or roll? In this game you can't because all of those words are strictly forbidden. Get your team to guess as many words as you can while you race against the clock. But watch out; if you say a forbidden word, the other team will squeak you and you lose the word. Suitable for age 13+ years.
This one is probably too hard for younger kids but we started playing it this year when my son was in year 5 and my daughter in year 7.
Available from Amazon
Bananagrams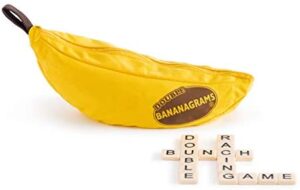 Addictively simple, and simply addictive, BANANAGRAMS is the fast and frantic word game enjoyed by millions! Players and their opponents aim to use all of their letters to build a word grid in a race to the finish. The first player to use all of their tiles is crowned "Top Banana"!
Bananagrams requires no pencil, paper, or board, and comes in a small portable banana-shaped pouch. Suitable for age 7+.
We got this game earlier this year and although we've only played it a couple of times, it's been lots of fun and I'm sure we'll be playing it a lot more.
Available from Amazon
Scattergories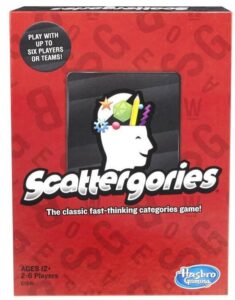 Scattergories is the fast-thinking game of words and categories. Players roll the letter die, flip the sand timer, and race against the clock to come up with answers to each category on the category list. Score points for writing down answers that no one else did! Suitable for age 12+
This game is definitely more suited for late primary/high school aged kids but you can play in teams if you have younger children that want to join in.
Available from Catch
Hedbanz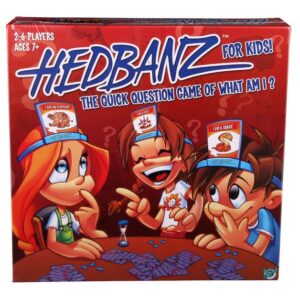 Choose a headband and grab a picture card without looking at the drawing. Put the headband on and place the card in the headband so the illustration is facing all players. Then, play by asking questions with 'yes' and 'no' answers as you try to guess what's on your card! It's a race against the clock to be the first player to get three scoring badges to win. Suitable for age 8+ years
We always love playing this game and I quite often find the kids playing this one without us.
Available from Catch
Tenzi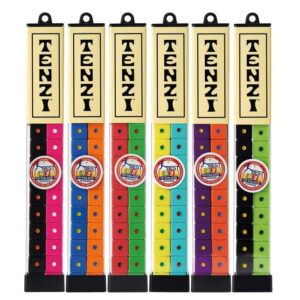 Tenzi is the fast-paced and frenzied dice-rolling game for 2-4 players. The concept is simple, the game-play is lightning fast, and the fun is immediate.
Although Tenzi is not technically a board game, I wanted to include it here because I recently purchased this game and we're all loving it. Suitable age 7+.
Available from Amazon
Hopefully you've found some new games for your family to try.
What games does your family like to play? Let me know in the comments below.
Disclosure: Some of the links above are affiliate links. This means that if you decide to buy that item, I will earn a small commission. This commission comes at no additional cost to you.