Valentine's Day is just around the corner and I've rounded up some of my favourite love inspired goodies to get you in the mood….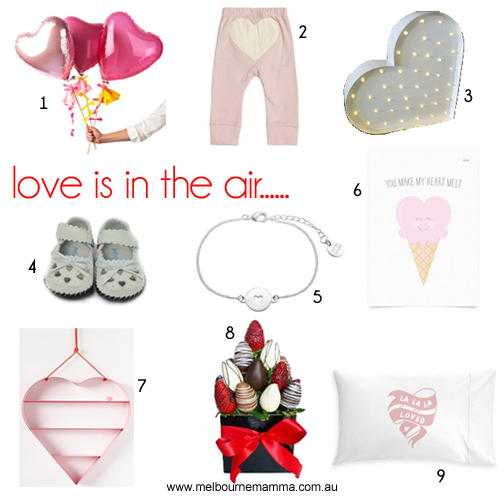 1. Pink Heart Balloon Kit $33 from Poppies for Grace, 2. Dusty Pink heart Pants $22.95 from Sapling, 3. Heart Light $89 from The Bright Ones, 4. Freycoo Little Heart Shoes $27.95 from Kids Got Sole, 5. Open Heart Bracelet $79 from Nicole Fendel, 6. You Make My Heart Melt Print $25 by Nest Accessories, 7. Heart Shelf $290 by Bride & Wolfe, 8. Chocolate Covered Strawberries $POA by Chocobon, 9. La La Loved Pillowcase $30 from Kids Interior Designs
Do you do anything to celebrate Valentine's Day?