I've often wondered if jewellery designed to help teething babies is as good as it claims. It always looks too pretty to let little ones chew on it.
I was recently asked to review Gumigem jewellery and as my youngest is past that stage in life (although I have been tempted to buy some jewellery just because it looks so nice 🙂 ), I enlisted the help of two mums with little ones.
Here's what they thought.
I was so excited to receive the parcel from Gumigem! Like a kid at Christmas, I opened the package to find delicious jewellery for my little one to munch on. My daughter Milan is 9 months old, teething and wanting to bite on everything! I love wearing statement necklaces but found her chewing on them all the time, so I was really keen to try these out as the are completely child friendly.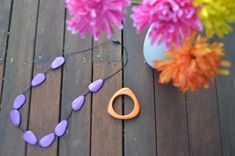 I got the 'Skimmers' necklace in Grapevine, it is a perfect purple shade. It goes with almost everything and my daughter loved playing with it while I would feed her. The grape coloured beads would occupy her tiny fingers and entertain her for almost as long as her milk feed. I would sometimes put it on her afterwards and she quite happily sat and played with it with the occasional bite.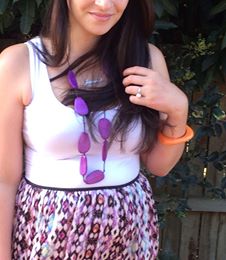 The 'Bermuda' bangle in squash is perfect for summer! The colour just makes you happy. Its soft and stylish and great for adding colour to any outfit. We liked this one the most! I would wear it but when we were out and about and Milan would start to fuss, I could just take it off and it was the perfect size for her little hands to hold. It soothed her sore gums and kept her content.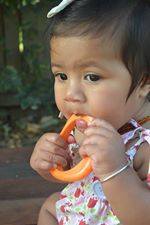 These teething necklaces and bangles for mums are great and I would recommend them to everyone! They come in so many great colours and styles and are a great way to wear statement jewellery that your little ones will love!
– Jasmine
I was quite sceptical of finding an item that would soothe my little girl's gums as her first teeth were trying to break through and found little comfort for her in the traditional teething toys.
I made a conscious effort to always have either the Gumigem bangle or necklace on me at all times (which wasn't hard to do, as they worked well with my wardrobe!) and found it to be such a relief for myself and my little girl when I could give her the bangle to hold and chew on while we were out and about. Knowing that it was washable also gave me peace of mind.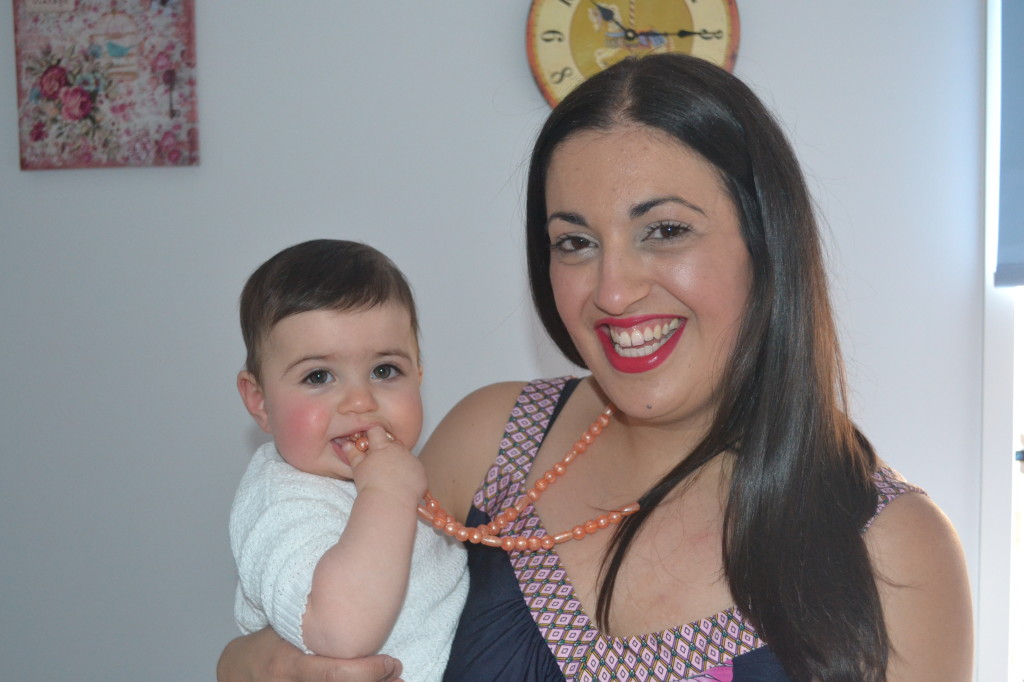 I found the necklace become a comforting tool when she was upset and she would place the beads in her mouth while having cuddles. Since trying Gumigem, my daughter now has 2 bottom teeth and more on the way.
Thanks Gumigem for making the teething process less painful for both of us!
– Melissa
A big THANK YOU to Jasmine, Milan, Melissa & Giulia – I'm glad you all loved the jewellery x
To find out more about Gumigem and see their collection of jewellery visit www.gumigem.com.au