Last weekend the family and I packed our bags, and headed in to the city to spend the weekend as guests at Adara Hotels Apartments on Collins St.
We actually only live about 20 minutes from the city but I jumped at the chance to have a "staycation" in my favourite city.
This kids were excited about sleeping in the city and I was too. The last time I spent the night in the city was my wedding night.
Adara are perfectly located between Swanston and Russell Streets (opposite the Regent Theatre), so we were very close to all the 'action'.
Upon arrival, the building seemed quite small but when we arrived at our apartment on the 4th floor we were pleasantly surprised by how spacious it was.
The two bedroom apartment consisted of full kitchen (including laundry facilities), dining area, loungeroom, main bedroom with queen bed, bathroom with shower (no bath) and second bedroom with three single beds.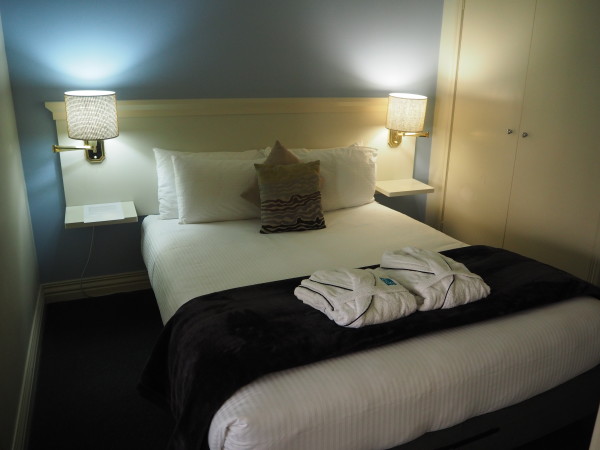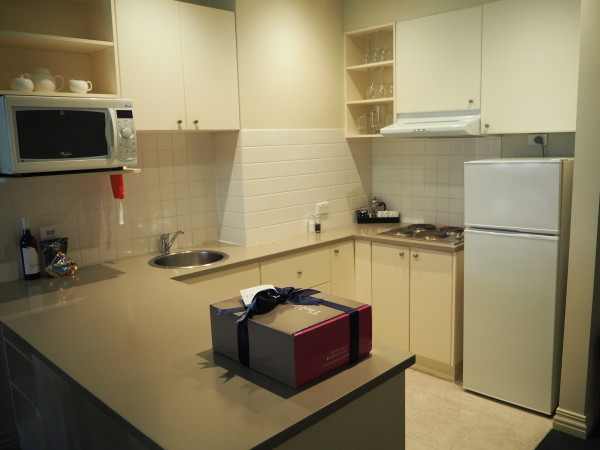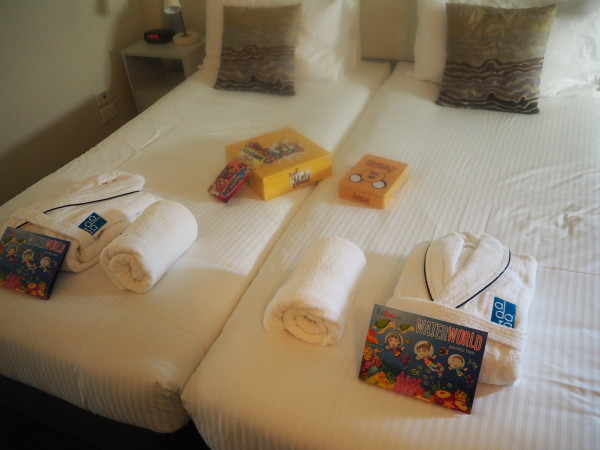 The kids totally flipped out when they discovered that they had their own bathrobes.
After unpacking and hiding away all the chocolates in the mini bar (from the kids AND hubby), we decided to walk down to Southbank for dinner.
It was such a warm night and there were people everywhere. The kids couldn't believe how many people were out and about. We rarely come in to the city at night and when we do, we are usually just walking from our car to a restaurant and back again.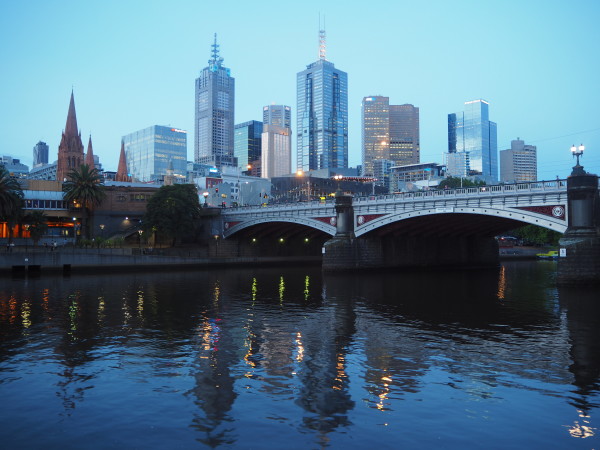 We walked along Southbank and enjoyed the entertainment of some street performers before heading to Blue Train for dinner.
Blue Train's kid's menu offers several different meals, along with a soft drink and icecream sundae for only $15. Pretty good value in my books.
Master 4 went with the fish & chips (which was quite large serve) and Miss 7 had the pizza. I had the pumpkin salad and hubby had a burger. All our meals were delicious.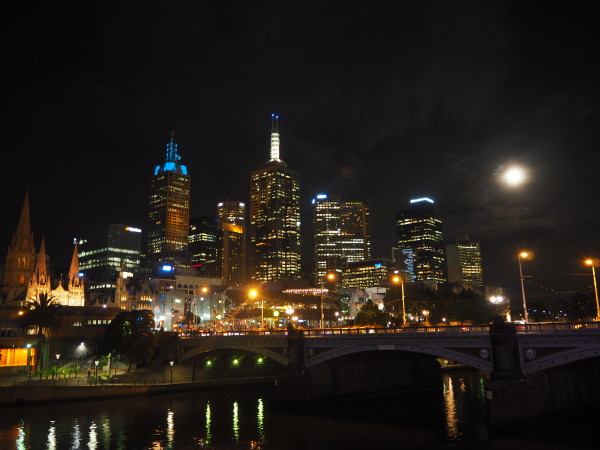 We slooooowly wandered back to Adara and got ready for bed.
After a quick breakfast on Saturday morning, we walked down to Bourke St to watch the unveiling of the Myer Christmas windows. We arrived early enough to see the Salvation Army band perform and then Harrison Craig came out to sing some Christmas carols – man, what an amazing voice he has!
While we were waiting for Santa to arrive, the kids squealed with delight as 'snow' began to fall from the top of the Myer building. It was pretty fabulous.
Shortly after, Santa arrived in a train with Jennifer Hawkins and revealed this year's theme "Santa Claus and the Three Bears".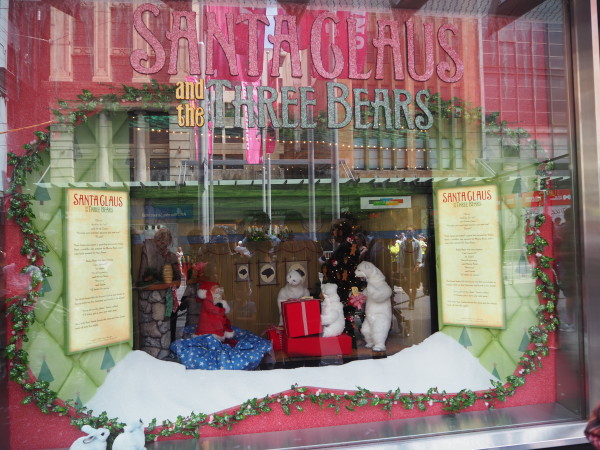 We then ventured up to the 6th floor of Myer to ride on the Christmas train and do some shopping at the Myer Giftorium.
After a quick lunch stop at Emporium Melbourne, we boarded the free City Circle Tram on La Trobe St and headed towards the Melbourne Museum.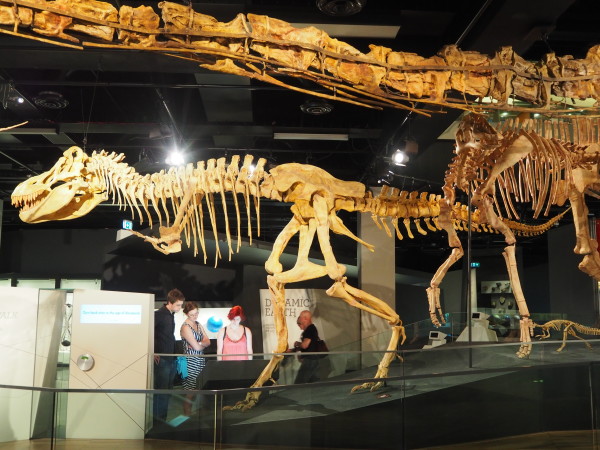 After a couple of hours exploring all the exhibits, we decided to walk back to Adara.
Once we got back to Adara, the kids read some books while hubby and I got ready for dinner.
After a quick walk to Federation Square, we had dinner at Time Out. If you ever go there, order the Nachos – they were soooo yummy!
We decided to walk back to Bourke St and have another look at the Myer Christmas windows to see them lit up at night.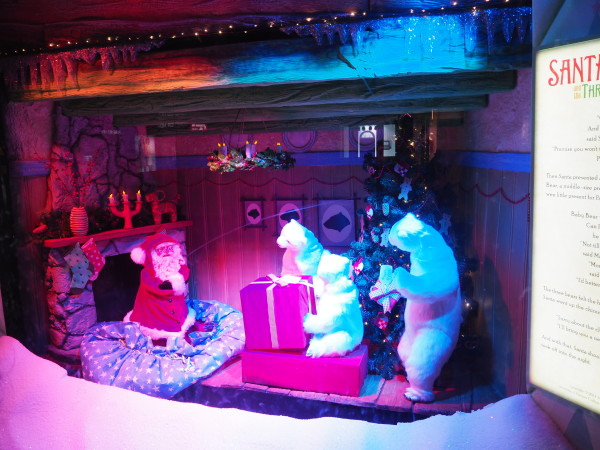 We finally made it back to Adara at around 9.30 pm, and the kids quickly fell asleep.
The next morning, we walked down to the National Gallery of Victoria to see the Carsten Höller Golden Mirror Carousel. It was so beautiful and the kids enjoyed their ride.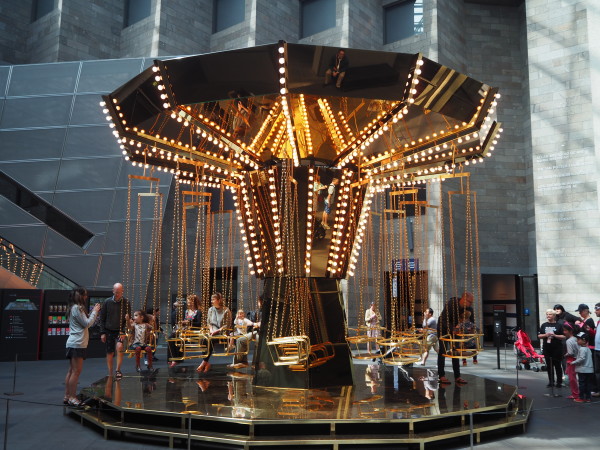 We explored more of the gallery and the kids had a run around outside (not sure where they got the energy from), before walking back to Federation Square to visit (ie shop) at the Melbourne Design Market. This was my first visit to the market and I loved it. Even hubby was impressed 🙂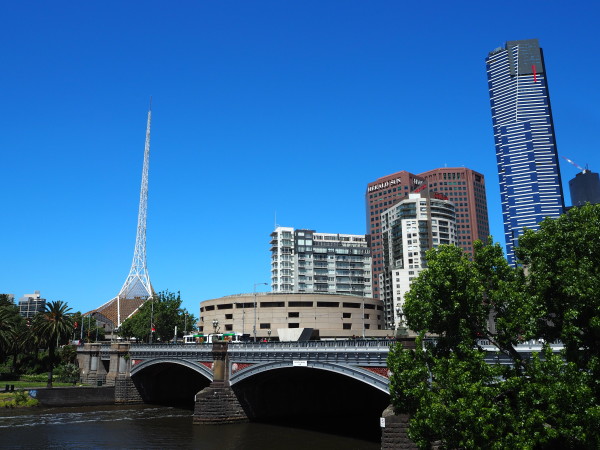 After shopping, we stopped for a quick lunch break while the kids had a rest (I think two late nights and lots of walking was finally catching up with them). I was so tempted to join them on the grass LOL.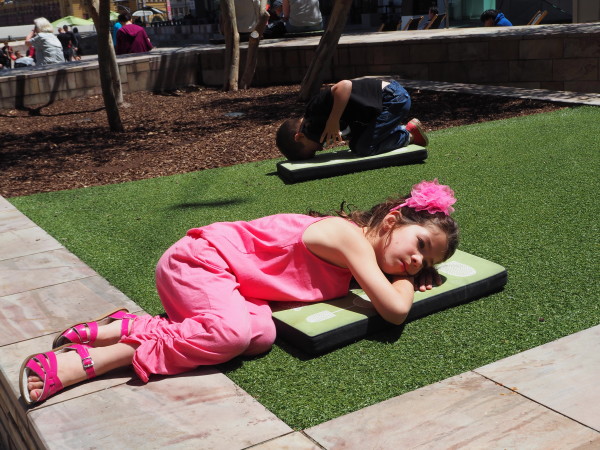 After lunch, we had one last place to visit – the Eureka Skydeck, to check out their latest attraction "Vertigo". You can read more about that here.
I would like to say a big thank you to Adara on Collins for having us.  We had SO. MUCH. FUN. during our staycation and actually felt like we were away on holidays (minus the airfares and time wasted in travelling).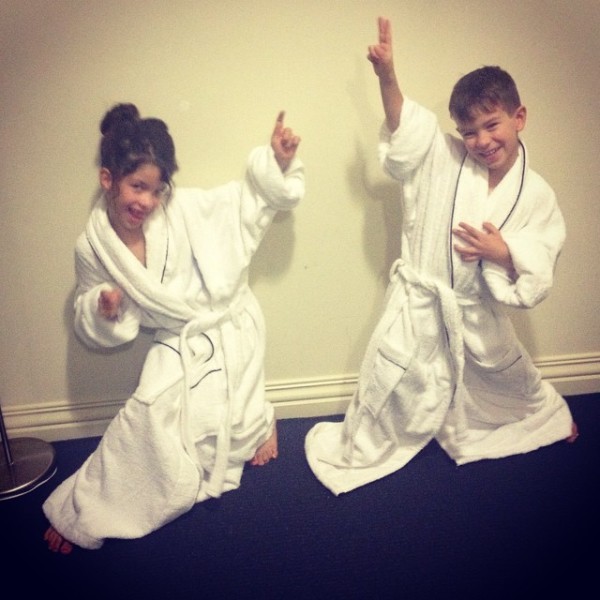 Stay tuned for a exclusive offer from Adara, so you can enjoy your own staycation and explore Melbourne.
For more information on Adara Hotels Apartment visit www.adarahotelsapartments.com.au.
Have you ever stayed in your own city and pretended to be tourists? Where did you go and what did you see?