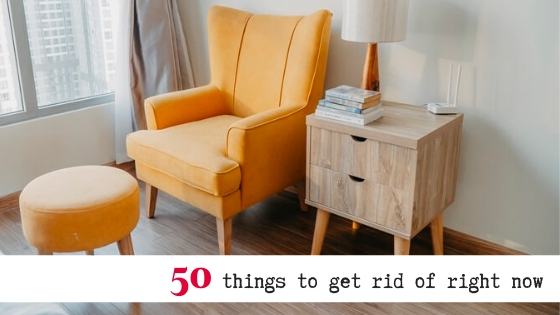 Are you tired of clutter and mess in your home?
I've put together a list of 50 things that you can throw away, donate or recycle right now.
I promise that once you've made your way through this list, your life and your home should be a lot less cluttered.
Alarm clock – isn't your mobile phone next to the bed?
Lanyards, bags and name tags from conferences you've attended.
Take away menus – the menu is exactly the same online. We promise.
Recipe books you rarely use – one word: Pinterest!
CDs that came with computer programs you're no longer using.
Travel brochures from trips you've already been on.
Gorgeous but uncomfortable shoes that you never wear because they give you blisters.
Belts that don't fit.
Hairdryer attachments that never get used.
Wedding, baptism or special occasion favors.
Makeup samples that you only like because they were free.
DVDs you don't watch.
Scarves you never wear.
Old bridesmaid dresses – have you worn it since the wedding???
Travel mugs that leak.
Clothes that are WAY too small – one size down is OK, but anything more? Just buy new clothes to celebrate!
Cards you've received that have no sentimental value.
Too many baking dishes – how many can you really fit in your oven at the same time?
Old mobile phones – trade it in, donate it or recycle it.
Backpacks or large bags that don't get used enough – and no, don't use these as storage solutions.
Bags from a store – keep one or two – maybe.
Extra bubble wrap – it takes up WAY too much room!
Scratched sunglasses.
Maternity bras that you are NEVER ever wearing again.
Gifts you don't really like.
Books you don't enjoy or plan on reading again.
Old mobile phone covers.
Extra buttons in little plastic bags from every. clothing.item.ever.purchased. Odds are you don't even have the shirt the buttons came with!
Fitted sheets that have lost their elastic.
Worn out or scuffed shoes.
Old ratty towels – turn them in to rags or get rid of them!
Instructions books for items you no longer own.
Old pillows.
Tupperware containers missing their lid – I promise you're never going to find the lid. Ever.
Chopsticks – unless you really REALLY use them.
Past wedding, baptism and birthday invites.
Too many sets of bed linens – allow three per bed maximum.
Stockings with runs – no amount of clear nail polish will take away the run.
Tiny screws and nails from furniture you don't even have anymore.
Hangers from the drycleaners.
Paper bills you don't need to keep – who wants to be reminded of how much money they've spent?
Too many hats and gloves – only keep a couple pairs that go with ALL your winter coats.
Stained clothing you can't get cleaned.
Magazines you've already read.
Dishes that don't stack easily and/or takes up too much room.
Cooking utensils you have two of – have you ever used two of the same utensil at the same time?
Craft supplies for projects that you never actually started (or completed).
Touristy knick-knacks that seemed like a good idea to purchase while on holidays.
Mugs, cups or plates that are chipped.
Emergency sewing kits – how many 'sewing emergencies' can one person have?