12 Days of Christmas GIVEAWAYS!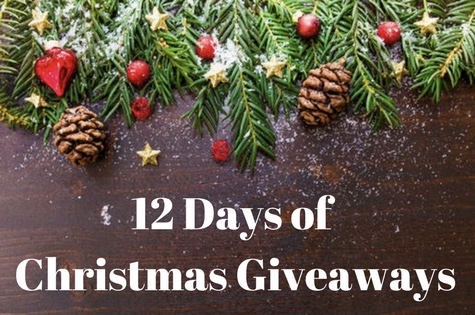 You won't believe what Meetoo and I have in store for you over the next 12 days!
We've got 12 days of AMAZING CHRISTMAS GIVEAWAYS to celebrate the festive season and say THANK YOU to all of our lovely followers for your support throughout the year.
Each day we will be giving away fabulous prizes on Instagram and Facebook. Just follow the prompts and you could be one of our lucky winners.
12 Days of Christmas giveaways kicks off at 12.00 pm (Melbourne time) on our Instagram and Facebook pages tomorrow (Friday 1 December).
Check out the amazing giveaway lineup below: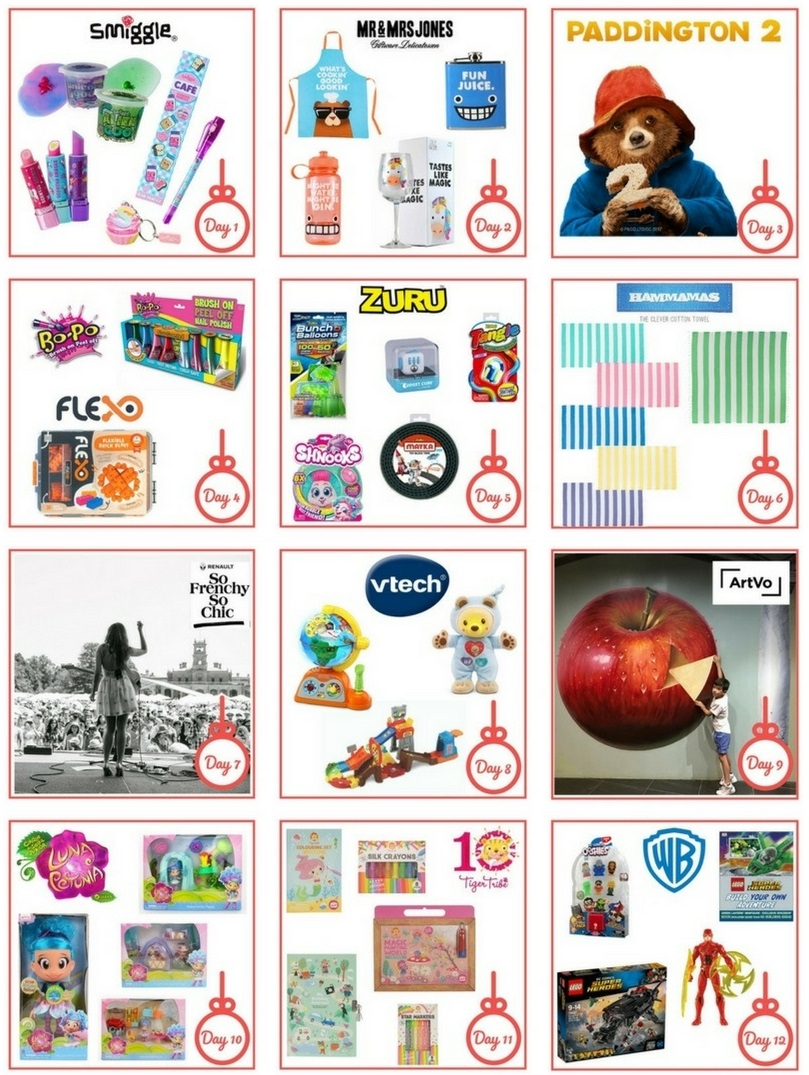 DAY 1 – Friday 1 December – 5 x Smiggle Prize Packs
Each Smiggle Prize Packs includes 3 x Mystical Lipstick Erasers, a Scented Pencil Pack, a Spy Talk Duo Marker Pen, Unicorn Goo, Alien Goo and a Cupcake Keyring. Total prize value $261.25. Love Smiggle? Want to know more? Click here!
DAY 2 – Saturday 2 December – 2 x Mr and Mrs Jones Prize Packs
Each Mr and Mrs Jones Prize Pack includes a What's Cooking Good Looking Apron, a Wine Glass Unicorn Magic, a Hip Flask Fun Juice and a Could Be Water Bottle. Total prize value $235.60
As the ultimate gift giving destination, Mr & Mrs Jones stocks leading brands such as Kate Spade New York, Meri Meri, Ban.do, Sunnylife, Corkcicle, Sagaform, Jane Foster, Me & Mats, Eggling and more. There's a huge array of amazing items on offer for both adults and children, making it the ideal one-stop shop this festive season when searching for gifts. Want know more? Click here!
DAY 3 – Sunday 3 December – 5 x Paddington 2 Movie Packs
Each Paddington 2 Movie Pack includes an in-season family pass (2 adult + 2 child tickets) to see PADDINGTON 2, a Paddington bag, stamper pen, pencil case and notebook. Total prize value $583.75
The much-anticipated sequel to the worldwide hit family film finds Paddington happily settled with the Brown family in Windsor Gardens, where he has become a popular member of the community, spreading joy and marmalade wherever he goes. In cinemas 21 December 2017.
DAY 4 – Monday 4 December – 4 x Bo-Po & Flexo Prize Packs
Each Bo-Po and Flexo Prize Pack includes a Bo-Po 8 Polish Super Pack + a Flexo Beginner Pack. Total prize value $279.76
Bo-Po (Brush-On-Peel-Off) is a unique, mess free, nontoxic, water based formula that goes on like real nail polish and dries in seconds! With many vibrant colors to collect Bo-Po will match every mood and Style. Girls can brush on their own nail polish then peel it off again and again, no nail polish remover required!
Flexo – Bounce, flex, bend, wrap or wear – the choices are seemingly endless. Flexo uses a unique rigid construction brick and flexible tendon that allows you to truly flex your imagination and create designs you never thought possible.
DAY 5 – Tuesday 5 December – 3 x Zuru Toys Packs
Each Zuru Prize Pack includes Zuru Toys Bunch O Balloons, X -Shot soft dart blaster, Shnooks, Fidget Spinners and cubes and loads more. Total prize value $302.64
Get ready for family fun these Summer holidays with a mega hamper from ZURU Toys, including the award winning Bunch O Balloons, plus the newly released Mayka Toy Block tape, Fidget Cube, ZURU Tangle, Shnooks, X-shot Turbo Advance plus Hamsters in a House.
DAY 6 – Wednesday 6 December – 1 x Hammamas Prize Pack
One lucky follower will get to take home this awesome prize pack containing a Hip Hammamas and an assortment of five Bold Hammamas. Total prize value $259.70
Hammamas are 100% Turkish Cotton towels – lightweight perfection, perfect for any holiday at the beach or by the pool this Summer. Click here to view the full Hammamas range.
DAY 7 – Thursday 7 December – 2 x Double Passes to So Frenchy So Chic
Each So Frenchy So Chic prize includes two tickets for 14 January 2018 at Werribee Park, Vic. Total prize value $340
Wine. Dine. Dance in the Sunshine! So Frenchy So Chic is a summer festival of pleasures. It's a party, a picnic, a celebration of life and culture, the Frenchy way. Lose yourself and find your joie de vivre. See you there, mes amis! Want to know more? Click here!
DAY 8 – Friday 8 December – 2 x VTech Prize Packs
Each VTech Prize Pack contains a Sleepy Glow Bear, a Toot-Toot Extreme Stunt Set and a Light & Flight Discovery Globe. Total prize value $279.70
Sleepy Glow Bear is a soft and cuddly soothing bear and the perfect companion to help baby settle at night. Featuring a squishy body, soft furry feet and paws for tactile stimulation and a soft glowing light with two settings that help soothe baby, Sleepy Glow Bear will become a wonderful night-time buddy.
The exciting Toot-Toot Drivers Stunt Set from includes the Press 'n' Go Monster Truck and three SmartPoint locations.
Get ready for take-off and discover the world with the Light & Flight Discovery Globe™. Little explorers can grab the joystick to circle the globe and explore different countries, meet new people and visit landmarks and animals. Five exciting activities introduce continents, oceans, famous places and more. As they pretend to travel the world, the globe teaches kids basic geography skills with colourful lights, playful phrases and cool sound effects.
DAY 9 – Saturday 9 December – 6 x Family Passes to Artvo
Have you ever found a painting so enticing that you wanted to jump right in and be a part of it? Well now you can at Artvo – and we have 6 family passes to give away for the just launced evening sessions (Artvo is now open until 11.30pm on Friday and Saturday). Total prize value $468
DAY 10 – Sunday 10 December – 2 x Luna Petunia Prize Packs
These prize packs each include a Luna Petunia talking doll, Garden Playset, 5 Character Assortment Pack, Crystal Castles Stables Playset and Fabulosa Cafe Playset. Total prize value $290
The Luna doll is articulated for play and features hair you can brush and style. When you push on her magical necklace, you'll activate sounds from Amazia and some of Luna's signature phrases from the show! The playsets include lots of fun features. 
DAY 11 – Monday 11 December – 2 x Tiger Tribe Prize Packs
Prize 1: Shrinkies Ultimate Collection, Colouring Set (Mermaids), Colouring Pack (Pirates), Oodle Doodle Shapes, Magic Painting World Dinosaurs, Flock of Unicorns, Scented Star Markers, Mini World of Fairies, Sweet Secrets Lockable Diary, Magna Carry Busy Builders. Prize 2: Shrinkies Sweet Treats, Colouring Set (Animal All Stars), Colouring Pack (Princesses), Oodle Doodle Animals, Magic Painting World Fairy Garden, Tribe of Dinosaurs, Silk Crayons, Mini World of Racing, Holiday Journal, Magna Carry We Love Fashion (valued at $157). Total prize value $314
DAY 12 – Tuesday 12 December – Warner Bros. Consumer Products
One lucky follower will get to take home this awesome prize pack containing the LEGO Flying Fox: Batmobile Airlift Attack, DC Series 3 of Ooshies, LEGO DC Comics Super Heroes – Build Your Own Adventure Book and Justice League 6-Inch Figures. Total prize value $254
Terms & Conditions
1. Enter via @melbournemamma and @meetookids Instagram and/or Facebook pages.
2. The more times you enter, the more chances you have of winning.
3. This promotion is in no way sponsored, endorsed or administered by, or associated with Facebook or Instagram. You understand that you are providing your information to the owner(s) of the Facebook and/or Instagram pages and not to Facebook/Instagram.
4. Each giveaway will run for 24 hours from 12.00pm until 12.00 pm (Melbourne time) from Friday 1 December until Wednesday, 13 December 2017.
5. Giveaway is open to Australian residents only. Void where prohibited by law.
6. Winners will be chosen at random, and drawn from a combined pool of Instagram and Facebook entrants. Winner(s) will be announced at the end of each day on Instagram and Facebook.
GOOD LUCK!