Melbourne Mamma is excited to be joining with 10 fabulous local mum run businesses to offer one lucky person the opportunity to WIN a Tiffany Heart Toggle Bracelet valued at $475.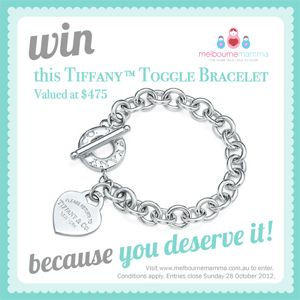 How to Enter!
Enter the draw via entry widget at the end of this post.
In order to have a valid entry you will need to "LIKE" the Facebook page of the ALL the contributing businesses.  Each LIKE will give you 1 point and you must have a minimum of 11 points for your entry to be valid.
You can earn EXTRA points (entries) by:
– Subscribing to Melbourne Mamma's Newsletter HERE
– Sharing the giveaway on Facebook. Simply

CLICK HERE

and type "Have you entered Melbourne Mamma's "You Deserve It" Tiffany Bracelet Giveaway?"
– Leaving a comment below this post.
Giveaway starts Thursday 18 October 2012 and ends Sunday 28 October 2012. Winner will be randomly selected via Rafflecopter on 29 October 2012. Winners will be announced on this blog.
Entry is open to Australian residents only.
          GO Festival                                                             Support for Mums

Motivating Mum                                                         Button Baby
Clever Mamma                                                           Hire for Baby
    Sia Argyrakos                                                              EarthyMamma
Arbonne Independent Consultant                                                                                 

                 Slick 20                                                       Jacinta's Kitchen Capers