If you haven't heard of Melbourne Warehouse Sales, you are going to love this.
For over 35 years, Alicia and her mum have been discovering Melbourne's best wholesale warehouses and discount clearances, and now as Melbourne Warehouse Sales they are giving you exclusive access to their bargains.
With their past experience, they have access to all the best warehouses in Melbourne, which don't normally open their doors to the public.
If you want to save money on fashion and accessories, beauty and cosmetics, homewares, toys, wine and more, make sure you sign up to their sale alerts and you'll never miss another warehouse sale or clearance sale again.
On Saturday, 8 December 2012 they have arranged exclusive access for Melbourne Warehouse Sales subscribers to seven amazing sales!
The warehouses participating in the sale include a toy wholesaler, a popular cosmetic brand, kids clothing, kitchenware, homewares, linens & books.
For more details on warehouses included and locations, visit their website.
It's the perfect time to grab all those remaining Christmas presents and perhaps a gift for yourself.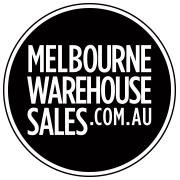 This is a sponsored post.