The Royal Children's Hospital Auxiliaries Design & Craft Market

I'm looking forward to popping down to Malvern Town Hall on Saturday for the "Made by Us Twilight Market". Shopping AND supporting the Royal Children's Hospital at the same time – it doesn't get any better than that.
The Royal Children's Hospital Foundation and Auxiliaries present the Made by Us Twilight Market, a one-off free event showcasing a curated selection of goods handcrafted by the Auxiliaries, local designers and craftspeople on Saturday, 30 June 2012 at the Malvern Town Hall, High St, Malvern (12 – 6pm).
All proceeds from the market will go to The Royal Children's Hospital (RCH).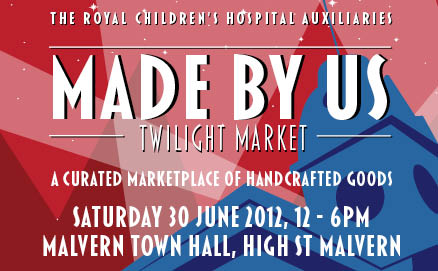 More than just a market, the Made by Us Twilight Market is an awareness and fundraising event, and an opportunity to celebrate the Auxiliaries 90th Anniversary in the suburb where they were founded in 1922.
Since then, the Auxiliaries have raised over $38 million for the RCH through community volunteering. The Made By Us Market is a stellar example of both their fundraising and creative work.
RCH Foundation's Executive Director Sue Hunt says "For 90 years, the Auxiliaries have fundraised for the hospital.  Their creative entrepreneurship and dedication never ceases to amaze and impress. The RCH Auxiliary network are active all year round, but it's not often that they come together under one roof.  This is a rare chance to both celebrate their wonderful work, and raise much-needed funds for the hospital.
"We're also hoping to inspire a new generation of Melbourne's arts, craft and culture enthusiasts to get involved with community fundraising.  It's a rewarding pastime, delightful community and of course, a great cause."
The Made By Us Markets' 50+ stalls –will feature high-quality homewares and soft furnishings, ceramics, paper goods, bath products, plants, jewellery, bags, knits, clothing for all ages, toys, baked goods, jams and preserves. Expecting a diverse crowd of Melburnians with their hearts (and wallets!) open to supporting the hospital, the stalls' offerings are tailored so there is something for everyone, young and old.
At no cost to enter, market-goers will enjoy a festival style atmosphere, and a line-up of acoustic live music from young local musicians.
Not to forget warming the bellies, the winter-themed café will be serving delicious treats, soups, hot chocolate, coffee, spiced nuts and more.
An event not to be missed, join The Royal Children's Hospital Foundation and Auxiliaries for a day of shopping, music, great food – all for a great cause.
As the Auxiliaries mission says: 'We are one team, working towards one goal – making sick kids better'. With the help of the public, the Made by Us Twilight Market will bring the Auxiliaries' closer to their goal.
Visit to www.madebyusmarket.com.au for more info.
I hope to see you there.