Have you ever considered laser hair removal?
I was talking to a few girlfriends earlier this year, who have been having it done and they were all raving about it. I always thought it seemed expensive and would be really painful, but they all assured me it was neither.
One of my friends recommended Australian Laser & Skin Clinics in Moonee Ponds, so it seemed like fate when they contacted me recently to see if I would be interested in trying any of their treatments.
Without hesitation I chose their laser hair removal and I thought this would be a great way for me to share my experience with you, in case you have been thinking about it or are curious too.
I've been waxing my lower legs for almost 20 years and nothing annoys me more than having to wait for the hair to grow to a particular length before it can be waxed again. It's not so bad in Winter, but in Summer I sometimes end up shaving because I CAN'T STAND having hairy legs.
I've also been waxing my bikini line for about the same time but don't do that as regularly because I shave it more often.
I've never waxed my underarms (too chicken), so I just shave them when I'm in the shower.
A couple of days before the first treatment, staff from Australian Laser & Skin Clinics sat down and discussed the procedure with me, and went through the possible risks and side effects and gave me the opportunity to ask questions. They also did a test patch to make sure that everything was ok.
When I came back for my first treatment, they started on my underarms and it only took about a minute to do each one. I was pleasantly surprised at how painless it was. On a scale of 1 to 10, I would rate it about 2.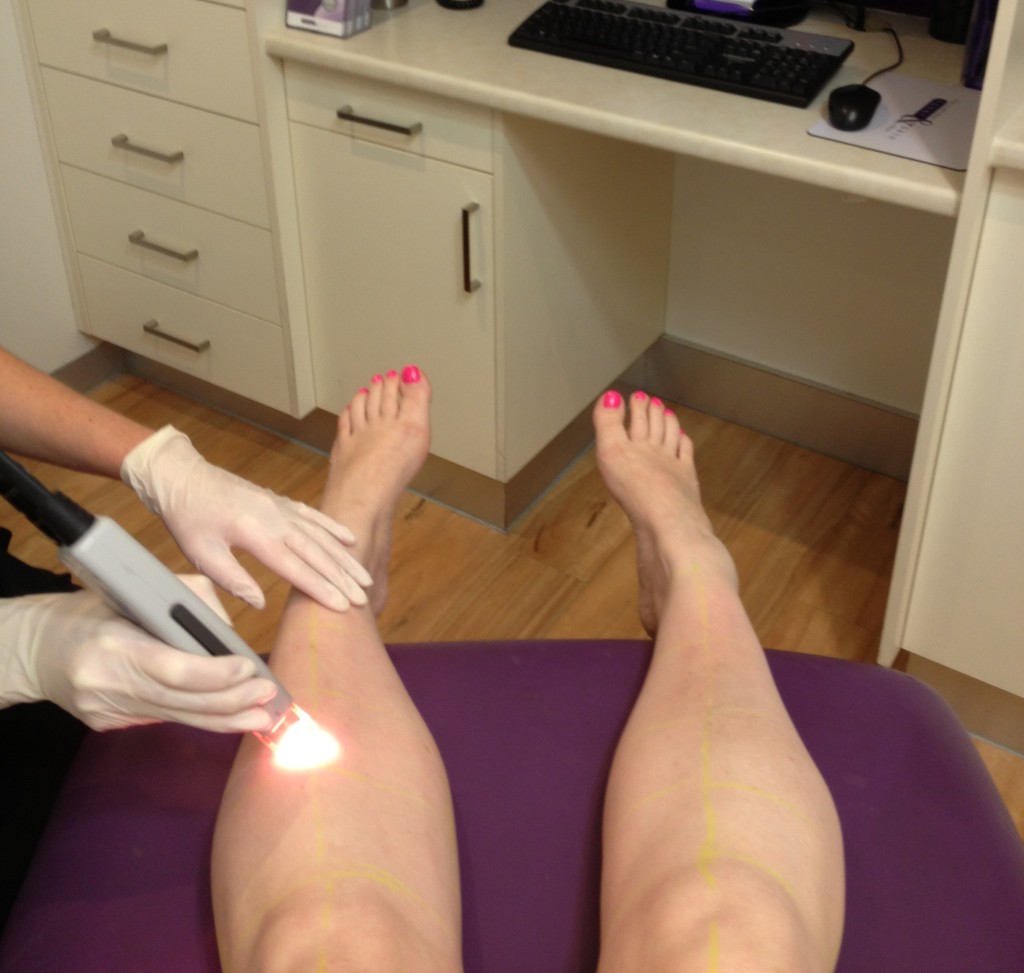 Next up was the front of my lower legs. This took about 10-15 minutes to do both. I would rate the pain level for this one about a 2 as well. I actually thought it was less painful than having them waxed AND don't even get my started on the terrifying experience that was the Epilady (I'm still mentally scared from that one).
Bikini was next and I thought this was more painful but only about a 3 or 4 of out 10. Still less than waxing the area, which was good.  Then I flipped over and had the backs of my lower legs done.
All up, the appointment went for about 45-50 mins. I actually found it quite relaxing to lie there and have it done. It's not often that I get to lie down and do "nothing" LOL
Here are some before and after pics. I'm actually REALLY embarrassed to be showing you how hairy I was before the treatment, but I wanted you to see the hair growth at the same times.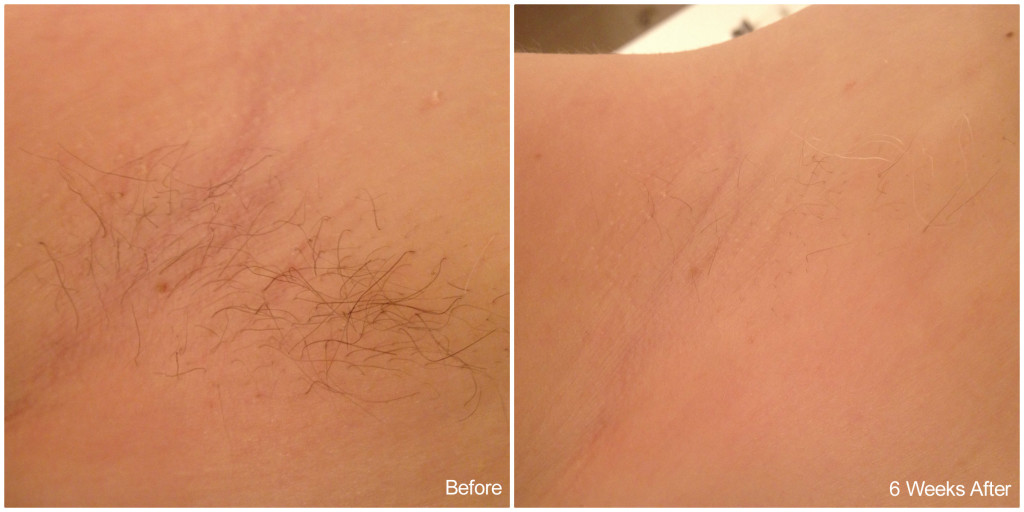 The before pictures were taken six weeks after I last waxed/shaved and the after pics were taken six weeks after my first treatment.
As you can see, there's not much to see in the after photos. There are a few fine hairs in the underarm picture above and if you look really really closely at the picture below you may see an odd hair or two on my legs.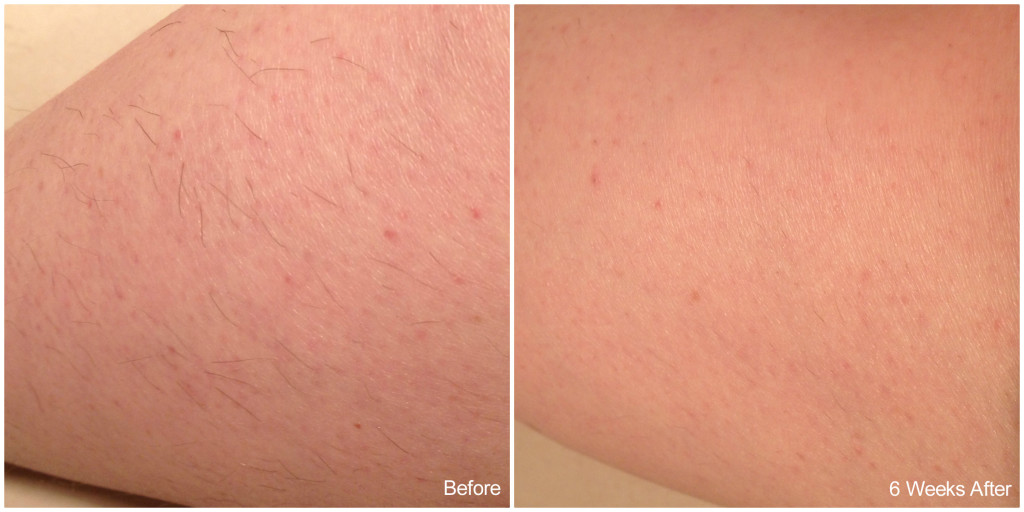 I could not believe how little hair grew back in the six weeks following my first treatment. I kept checking my underarms in the shower, expecting that I would have to shave them and even grabbed the razor a few times (out of habit).
My legs and bikini line had a few hairs grow but they pretty much dropped out once they came through the skin (this is what's supposed to happen).
I kept looking at them, thinking that at least some of the hairs would grow back as normal but they didn't.
One thing I love about laser hair removal is you DO NOT need to grow the hair to a certain length before you it gets zapped. In fact, the day before your treatment, you must shave the areas you are having lasered so they are hair free. This also means that you CAN shave between treatments if you have regrowth and don't want it – hallelujah!
It is VERY important that you use sunscreen before and after treatments and avoid tanning products and/or solariums too. In fact the whiter your skin is, the better result you will have (Yay! It finally pays to be like Casper).
Now for the cost! As I mentioned earlier, I always thought that laser hair removal would be really expensive and although it may seem like that at first, once you look at the costs of waxing, it's definitely much cheaper!
The Australian Laser & Skin Clinics have some fantastic laser hair removal packages available and you can check out some fabulous deals on their specials page too.
They recommend coming in for 4–8 sessions for permanent results, which is why they offer 5 treatment packs (I've seen other clinics and salons suggest to come in for 10 sessions).
With laser hair removal on the body you only need to come in every 8–10 weeks for a treatment and not every 4 weeks.
Here's a breakdown of cost for the areas I had done:
Lower Legs: Single $279 or 5 Treatment Pack: $1095 ($219 per treatment)
Underarms: Single $99 or 5 Treatment Pack: $395 ($79 per treatment)
Bikini: Single $119 or 5 Treatment Pack: $445 ($89 per treatment)
Lower Legs, Underarms and Bikini: Single $349 or 5 Treatment Pack: $1495 ($299 per treatment)
Here's a breakdown of the cost to have waxing done. I've selected two salons in my area, so you can see a cheap and more expensive option:
Lower Legs: Salon A $22 or $176 (per year – average 8 treatments) / Salon B $39 or $312 (per year – average 8 treatments)
Underarms: Salon A $15 or $120 (per year – average 8 treatments) / Salon B $28 or $224 (per year – average 8 treatments)
Bikini: Salon A $12 or $96 (per year – average 8 treatments) / Salon B $26 or $208 (per year – average 8 treatments)
Lower Legs, Underarms and Bikini: Salon A $392 or Salon B $744
Multiply the waxing costs by the number of years you need to keep doing it and you soon realise that laser hair removal is a much cheaper alternative.
I'm actually too scared to calculate exactly how much I've spent on waxing but I know it would be in excess of $5000 and I'd still be getting it done for at least another 10-20 years, if I hadn't started the laser hair removal.
Exclusive Offer: Spend $100 or more on any treatment at Australian Laser & Skin Clinics and you will receive a $50 Gift Voucher (Offer ends 30 November 2014). Conditions apply on the voucher, one per person and you must mention "Melbourne Mamma" to receive the voucher.
So, what are you waiting, make an appointment now! Australian Laser Skin Clinic have six locations around Melbourne, so check their website for your nearest location. You can also book a free consultation, if you would like to go in and have a chat about it too.
Stay tuned over the next few months as I continue on my laser hair removal journey and announce some more exclusive offers for Melbourne Mamma readers.
Will you be joining me and going hair free this Summer?