This is a sponsored post.
TiniTrader.com.au is Australia's leading website for finding, buying and selling products for babies, toddlers and kids.
Use it to search for brand new products for sale from some leading kid's retail stores.
You can also use it to sell your own secondhand items, so if you've got preloved items at home that you don't know what to do with, why not list them on TiniTrader.com.au.


This one-stop shop enables you to search rapidly and easily through thousands of products available through retailers nationwide. No more running or ringing around to find what you're looking for. Find what you need in a store near you.
With over 12,000 baby and kids products from brick and mortar retailers across Australia, TiniTrader.com.au is the online solution for busy mums and dads.
A friend of mine wants to get a Micro Scooter for her daughter for Christmas, but she's not sure if she should get a micro or a maxi, so she wants to see them both in real life before she makes a decision.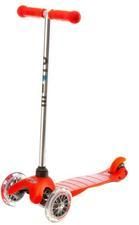 So I jumped on TiniTrader.com.au and found 3 stores near her, that she can contact to confirm they have both sizes for her to look at, to save her driving around trying to find them (gold star for me ☆).
If you've still got some Christmas shopping to do, jump on TiniTrader.com.au now and let them do all the leg work 🙂
Shop local this Christmas and support small businesses.