This week we are getting to know Selvije from Chachi and Bouds….
I recently had the pleasure of attending the launch of new local label "Chachi and Bouds" and I was blown away.
The brainchild of local mum Selvije and her mum Undra, Chachi and Bouds combines pretty feminine design with gorgeous fabric and texture.
If you're looking for something pretty for your little miss – this in one label guaranteed to be a favourite this summer.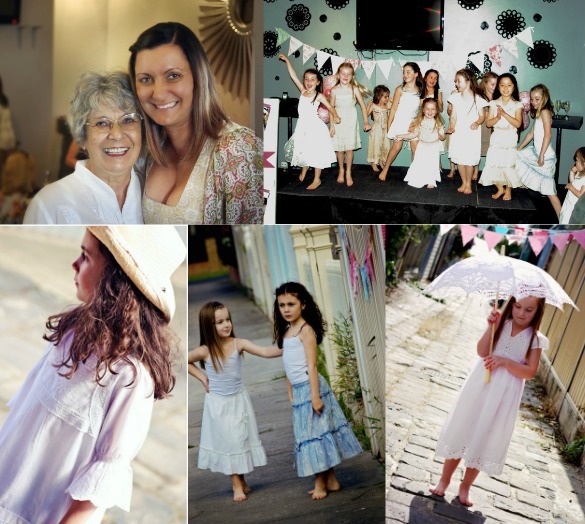 1. Tell us a little about yourself
I was in finance for 16 years leaving the Bank, when I fell pregnant with my daughter in 2004. Thinking that I would go back to work, I loved being a stay at home Mum. I had my son, in 2006; life is a lot more hectic now than it was when I worked in finance!!! We, as a family are interested in going to watch AFL together, catching up with family, friends and being involved in the school community.
2. Describe your label in one sentence?
Our designs blend classic, vintage styles with natural fabric, colours and those decorative extra touches of embroidery and lace that lift our garment above the ordinary.
3. How did you come up with the name for your label?
My son had difficulty in calling his sister by her name "Charley" and started calling her Chachi and the "Bouds" came because my son was quite chubby as a baby and we called him "Bouds" as he was like a little Buddha.
4. What led you to creating Chachi & Bouds?
We wanted to create a range of clothing with the look and quality of the designer labels but without the designer price tag! Also another key element was to design a range of clothing that is age appropriate yet fashionable and comfortable for play or party.
5. Where do you find inspiration?
Some inspiration comes from our friend who is a designer and has two children of her own, shows us her sketches (or samples); we look at them and comment accordingly. Or I may see (imagine) something I like and then talk to my mum and friend about it, then our designer friend draws it up.
6. What do you love most about what you do?
Love seeing our creations on little girls and the enjoyment on their face as they twirl around showing it off.
7. What are your 3 favourite items from your latest collection?
#GN025, #LL002 and #LB003 really reflect the image we want to create.
8. What's one item you can't live without?
My mobile phone
9. What's one item your kids can't live without?
My daughter – her books & my son – football
10. Favourite place to shop for yourself?
Witchery, Country Road, Green with Envy, Shopbop, Husk
11. If you weren't designing what other job would you like to do?
I would love to be a fashion stylist like Rachel Zoe, for a major movie star…..ah to dream!!!
Chachi & Bouds is available from Chocolate Freckles, Kiss Chasy Clothing and www.chachiandbouds.com.