Are you ready for Melbourne Mamma's Exclusive One Day Flash Sale!
I've got more than 40 retailers participating in this one day exclusive sale on Thursday, 20 June 2013.
You'll save up to 60% off kid's and women's clothing, shoes, toys, books, decor, accessories, jewellery, homewares and more.
Discounts will be on online or instore for one day only.
Sign up to my newsletter to receive your exclusive discount code.
Participating stores include:
A Boy Called Basil, Alittle Pocket, Always Young, Andel Homewares, BabyButton, Big Dreams, Bink Kids, Bubba Boosh, Bump, Baby & Beyond, Busy Kids, Button Baby, Chocolate Freckles, Coco & Phoenix, Cradle Rock, Designer Showcase, Embellish'd, Fujinella, Funky Little Fella, Gumigem Australia, Hummingbird 60, Jujo Baby, Kawaii Kids, Kids Revolution, Little Boo-Teek, Little Chillies, Mali Me, Master & Miss, Mickey House Kids, MyCuteBaby Clothing, Oranges and Lemons Boutique, Prince Ratbag, Ribbons & Rockets, Shady Days, Spindleberry, Spunky Munky, Story Mama, Tarbea, Three Cheeky Monkeys Online, Tiny Wardrobe, Twinkle Twinkle Little Star, Cheekly Little Soles, Minimink

Shop Local, Support Small Businesses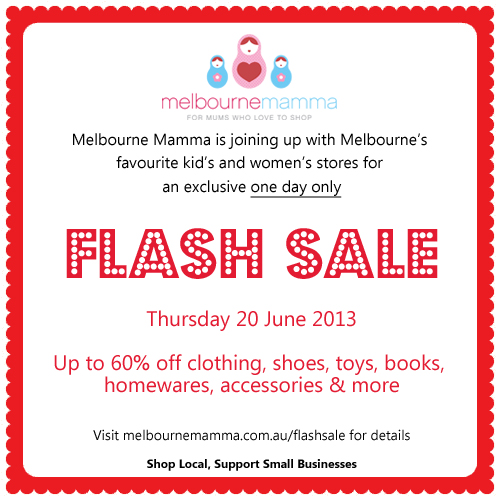 Are you