Only 4 more sleeps until Father's Day (the second best parenting day of the year 😉 ) and if you're still stuck for what to buy, you must check the fabulous items available at RedBalloon.
RedBalloon offer a terrific range of amazing and unusual experiences that will be remembered long after the giving. They have gift ideas & certificates available for over 2000 experiences, Australia wide.

My husband is an absolute nightmare to buy for! He already has everything (fabulous wife, 2 great kids, etc ;)),  and when asked what he wants for birthdays, Christmas etc, it's always something for his bike or his sport (Ironman triathlon). Which means, nothing I can go and buy without his input.
Thank god on Father's Day if we buy a gift they don't like we can just blame it on the kids LOL.
Not this year though, as the kids and I have picked a fabulous gift for him from RedBalloon – a Shark Dive Experience at the Melboure Aquarium. YES, we do love him and NO we are not hoping he gets eaten by the sharks. My 3 yr old is actually hoping daddy meets a nice shark like Bruce (Finding Nemo).
Everytime we go the the Aquarium, the kids love to sit and watch the people swimming in the big tank. So when we looked at all the offers on the Red Balloon site, this was the one they both got most excited about.
Keep an eye on my blog, for a review on the dive and whether or not hubby became shark bait.
In the meantime, here are my Top 5 picks for Father's Day.
Shark Dive at Melbourne Aquarium – Non-Certified Divers $220
Experience the huge adrenaline rush of coming face-to-face with a shark, one of the most feared creatures of the deep. Take the plunge inside Melbourne Aquarium's 2.2 million litre Oceanarium.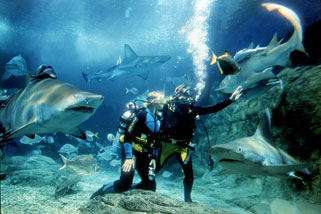 Boeing 737-800 Flight Simulator 30 Min Experience $175
Fly to Rome, Paris, Buenos Aires, New York or Hong Kong. We've flown over 100, 000 clients and are the world's only simulator available to the general public that is a Boeing Official Licensed Product.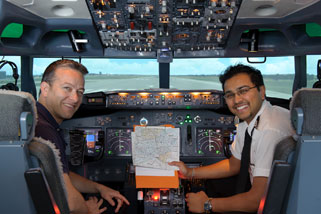 Lamborghini Gallardo and Ferrari 360 Drive Experience $799 (on SPECIAL for $399)
Experience driving two of the worlds best supercars, get dad behind the wheel and he will drive a Ferrari 360 Modena F1 and a Lamborghini Gallardo.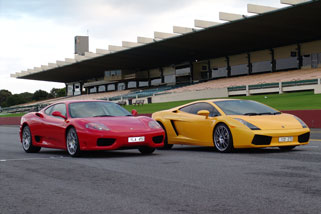 Half Day Fishing Expedition $99
Come on board for a fishing trip on the magnificent Port Phillip Bay, just minutes from Melbourne. Give dad a chance at hooking a snapper, whiting, salmon and other season species – they are all just a cast away! During the fishing trip he will also enjoy a sausage sizzle lunch.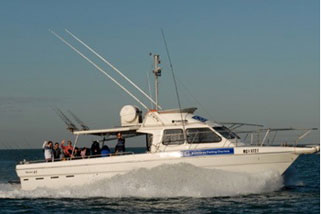 Sport Tour and Beer Lovers Experience $139
An unforgettable experience for lovers of sport and beer, taking dad behind the scenes of Melbourne's leading sporting venues such as the MCG and Flemington. Plus, he will go behind the doors of the Foster's Australia Brewery to see the past, present and future of beer and enjoy a free tasting!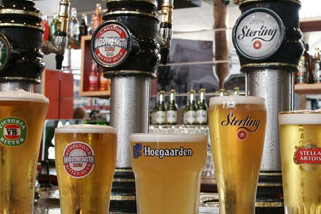 Or if you want to be really cheeky, why not get him a gift that you can both enjoy; Red and White Wine Tasting Experience ($109), Steam Train & Overnight Stay for 2 ($26), Italian 3 Course Dinner, Wine and Cocktails – For 2 ($160) or a Wine Tasting and Winery Lunch – For 2 ($200).
If you want to grab a Red Balloon gift for your husband or dad, the vouchers can be emailed straight away to your inbox, so need to worry about them not arriving on time. Click, print, give. Done.
The experiences listed above are all based in Melbourne or Victoria, but RedBalloon have similar (if not the same) options available all around Australia.
If you give a RedBalloon gift this Father's Day, I would love to hear how it goes.
This is a sponsored post.