Please note, all accounts of this day are not mine but are from those who saw me – my partner "A" (who is now my husband), drs, police & emergency workers. I have no memory of this day or the hours preceeding or the days following.
Here is my story…..
I had just spent the long weekend at Lorne relaxing with A and was heading to work at my new job in the city (I had been there 5 weeks).
As I sat stationary in my car at a red light, I was rear ended by someone travelling at approx 80-100km/h, who was heading home at 8am from a big night in the city (no need to explain further). I hit the car in front of me & was launched (apparently airborne) into oncoming traffic, another car t-boned me on the passenger side. Police later told us that witnesses said my car looked like it was in a pinball machine.
When paramedics arrived I was unconscious. I remained unconscious as they cut me from the car. I later heard from a fireman who attended the scene, that they assumed when they arrived at the accident that they were going to be removing a body, my body, from the wreckage – they were surprised to find out I was still alive.
I was then rushed to the hospital, where they discovered I had a broken pelvis, internal bleeding, fractured vertebrae, and head, shoulder and foot injuries. I was pretty beaten up.
Somehow I managed to tell them the name of A's work (I couldn't remember his phone number or last name) and they eventually tracked him down to tell him what had happened. He said it's the worst news he's ever been given. He then had to call my parents (who lived interstate) and tell them what had happened – he said it was the hardest thing he's ever had to do.
Apparently when he arrived at the hospital, I was upset because they had cut my clothes off me and I had been wearing my new skirt (obviously the bump to my head hadn't affected my love of clothing).
My parents arrived the following day and stayed at my bedside for the remainder of the week.
During that time A and my dad went to the wreckers to collect my belongings from the car. They said that the staff were avoiding them and acting really weird until A mentioned that he had just come from the hospital to collect my stuff and they were shocked, as they had assumed that whoever had been in my car had been killed (A thought that was why they'd been avoiding him). My dad took one look at the car and left immediately (A told me, my dad threw up after seeing what was left of my car).
The following month in hospital was a blur of pain, rehab and more pain. Lots of people came by to visit, some I remember, others I don't. I hated being in the hospital & couldn't wait to get home.
I wont include any pictures of my car here because several family members and friends have asked never to see them but here is one of me in the hospital.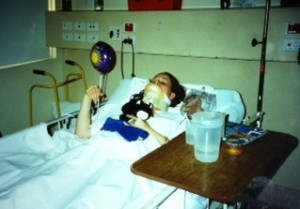 One of the hardest things for me following the accident was relearning how to walk. It's strange as an adult having to learn such a basic everyday task, that is done without thought. One of my therapists told me that learning to walk as an adult is the most difficult thing a person can do. Even though it had only been a couple of weeks since I had walked, my body had been through so much trauma and was in so much pain that my brain was not sending the correct signals to my legs. It was so frustrating not even to be able to put one foot in front of the other.
After 5 weeks in hospital, I returned home in a wheelchair, with a walking frame (my grandma had one the same). I remember celebrating the day I walked from the front door to the letterbox (approx 15m) – I felt like I had run a marathon. I then graduated to a walking stick (which made me really selfconscious) and I used that for another couple of years. It was approximately 4 years before I began to walk normally (without a limp – which my body assumed was natural).
For the next few years I regularly attended rehab and a pain management program and had counselling as I became depressed at how much my life had changed and the effect it had on my personal and professional life. It took awhile for me to realise how lucky I was to have survived that day and that my injuries could have been a lot worse.
I was so fortunate to have such a wonderful and caring partner and be surrounded by family and friends who loved me. I could not have gotten through this without them.
Ten years later and I still have days where the pain is more than I can bear and I get angry and think why me. But then I think about what could have been and realise, I am the LUCKIEST person in the world.